Kame'e: The Hero.
Steve and his team worked to stop an assassin who was targeting Navy SEALs this week, making Steve and the Five-O team "Kame'e."
Who else is excited that Lt. Commander Joe White is moving to the islands, where he could potentially be a regular (or at least significantly recurring) character on Hawaii Five-O? I have made it no secret that I really enjoy Terry O'Quinn's portrayal of White and this week's revelation just added to my budding man-crush!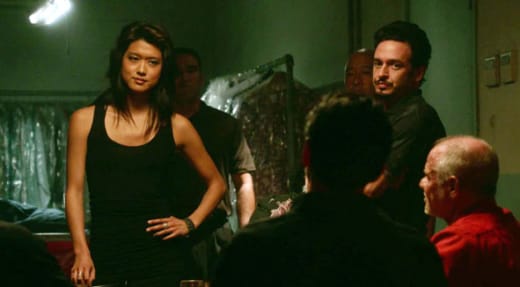 I didn't realize what a hot head Steve could be until Joe White was added to the mix as the sage wisdom-imbued father figure. After watching Steve go after Drayton in the cooler, I actually wondered if Lt. Governor Denning was right in his assessment that Five-0 had been over-stepping more than they should have.
Was Steve this big of hot head last season and I just not see it? Or do they need a grumpier McGarrett to make Joe White work as the calming influence?
Elsewhere, I was also very happy with Lori Weston this week. First, the writers turned down the "sultry sex-kitten" look/feel about 50%. She is still attractive, but she didn't seem out of place.
Second, the skills she showed off made her one part Jenna Kaye, one pary Kono and 100% awesome as she went "Steve like" toe-to-toe with Danny in the car about marriage.
Speaking of Kono, she is either sliding to the dark-side faster than you can say "Anakin Skywalker" or, as one TV Fanatic suggested last week, she has gone undercover for Captain Frye.  Either way, I hate the story arc with a passion.
To start with, it's not connecting to Five-0 other than having Kono as the key officer. Past that, Grace Parks can't do "wounded and brooding." She just looks bored and Billy Baldwin as Frank Delano is yet another Haole cast in a roll of an important character. 
Wait, the dirty cop turned mobster is named Delano?? In Hawaii??? Really? Really?!?  First we had "Captain Frye" and now "Frank Delano." What's next, is a Corleone going to show up?
Did they buy this story arc from a script set in Chicago/New York or did one of the writers work on Detroit 187 last year?
I really hope that Alex Kurtzman and his team finish up this whole "Good Wahine" storyline and get Kono back to the Five-0 where she should be kicking ass and taking unconscious names. 
What did you think of Baldwin's portrayal of Delano? Is there more to him other than he looks rugged and dashing with only half of his face being lighted from a naked light bulb?
Jim G. is a TV Fanatic Staff Writer. Follow him on Twitter.