On "In or Out," the guys made a serious decision to jeopardize their relationship with Andy on the chance they could impress a fashion forward socialite played by Gina Gershon.
If Cam and Ben didn't realize they were making a mistake at first, they should have after listening to Isaac Mizrahi, who told them about how he and his contemporaries came up together in the business from humble beginnings. Andy is like Ben, and Cam and would have been a great fit for the pair, but they are too preoccupied with taking the express train uptown.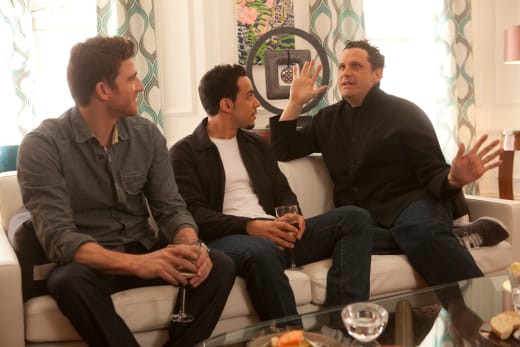 The scene at the brunch where Ben and Cam slap fight in the kids' room was very telling of where they stand as a brand. They are more comfortable in a younger setting than downstairs with all the adults. Perhaps they should focus on a younger demographic instead of trying to fit in with a crowd that clearly is not ready to accept them.
Nancy did tell Ben that her son took one of their hoodies. I have a feeling Nancy is going to see the potential for Crisp before the guys do. Also, that stolen toy soldier is going to come back to haunt Cam. Everything in that kids room was vintage; I bet those toys were also. 
Rachel has what it takes to succeed but showed she lacks the confidence and motivation her former flame Ben possesses. Domingo gave her some good advice, though, while they walked all the dogs (of which the Great Dane, Donna Summer, was best in show by far). And Domingo seemed to enjoy the kiss she gave him on the lips. I could see some sparks igniting between those two. I wonder how Ben will feel about that?
Rene continued his efforts to make Rasta Monsta the next Red Bull, but I was a little surprised he needed an advertising executive to tell him sponsoring an extreme athlete would be a good direction to take. At the least it was a nice opportunity to see Andre Royo from The Wire on screen again. It seemed as if the writers tried to show the more ruthless side of Rene in this episode, but scenes like the one where he scolded his guys for their "brainstorming" idea make it hard to take him seriously.
There has never been any confusions as to Eddie Kaye Thomas's role, however, and he once again delivered the most comic relief while he looked at apartments with Cam and also had some of the best quotes of the episode. I hope we get to see more of him as the season unfolds. Overall, it was nice to see separate storylines developing for different characters and the addition of Hollywood veterans like Gershon should bring some good depth to the show.