Claire Dunphy spends a lot of her time being super mom and the enforcer of all rules, so it's great to see her get a little crazy for a night.
In "Go Bullfrogs!" we even got to watch how chill Claire really is compared to the other mothers in her neighborhood. You know, the one who've got Pinot. Please tell me somebody has already made a GIF of that scene.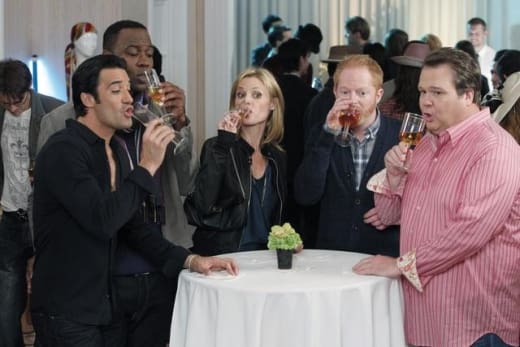 As appealing as it sounds to watch Gone with the Wind in a new screening room, and I'm not even being sarcastic because screening rooms are dope and GWTW is a classic, sometimes you just need to toss on something sexy, get some music blasting, throw back a few drinks and gossip with your friends.
Also, I have to give it to Claire: she looked great in that red dress and leather jacket. Normally I think she's just way too skinny and jacked, but that combo was a good look for her. Plus, it didn't hurt that the other women were in mom jeans and cardigans.
Too bad Mitchell and Cam are in such a funk! C'mon guys... 9:30? My twoyear old nephew stays up later than that half the time. If Claire can relax and let her hair down, Mitchell can too. Remember the Lady Gaga concert last year? It's okay, boys, I know this is just a dry spell and I love you anyway. But please never pass up Jay Z tickets again. He may not come on until 10, but trust, he's worth it.
Someone who didn't have any trouble letting loose was Phil. This wasn't much of a surprise considering Phil is the life of every party and I truly wish we could get some flashbacks to college Phil. When he put Claire on hold to join the cheerleaders and re-enact the routine from his glory days, I may have actually busted a gut.
Consider way he ran around campus in his Bulldogs paraphernalia and backpack. How could Haley stay mad at him? I find it hard to believe how nice Haley was on this trip, but I also found it sweet how she indulged her father with the chicken wings and tray sledding.
That whole college visit storyline got me so nostalgic. I, like Haley, went with my father to visit his alma mater and it was definitely a sight to be seen. Nothing can really prepare you for watching your father tear up while recounting the days in the ol' frat house. Lucky for me my dad was more band dude than male cheerleader.
This episode represented three different stages of adulthood: nostalgia for the good old days, desire to go out and rage, and realizing when you're in a rut. Nothing says rut more than an addiction to a soap opera. However, Jay calling the housekeeper to fill him in was hilarious.
A great episode overall, with a lot of classic quotes including the reaction to the man whose Prius Cam and Mitchell accidentally took home. I see you've met my wife. Honey, with that baseball bat job she did on your car, I'm pretty sure it's gonna be your ex wife. Or at least it should be.
As usual, weigh in with your comments, quotes, and embarrassing college stories!