NCIS: Los Angeles Review: Callen vs. Gaddafi
Steve Marsi at .
The international angle of last night's NCIS: Los Angeles was both topical and compelling, but "Deadline" was most notable for its long-awaited, surprisingly substantive reveals on the Callen front.
Perhaps Hetty felt she could no longer be cryptic about it. I half expected the show to pull back, in Lost fashion, and leave us dangling after she divulged G.'s mother's name to end last week.
Instead, this week's episode did the opposite, picking up right where Hetty left off. Callen now knows his CIA origins, why his mother was killed, and why he personally was marked for death.
What he doesn't know - and Hetty apparently doesn't either - is who the father is.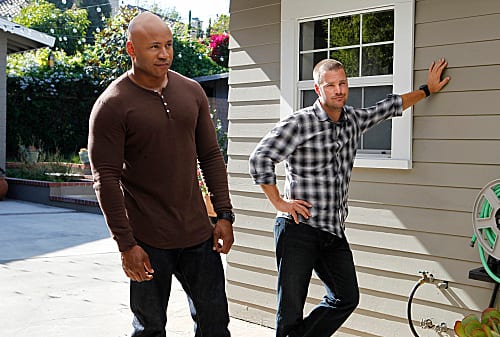 Callen's grandfather was tasked with hunting down war criminals in Romania, and the Comescu family certainly qualified. It was this that resulted in his mom's death when she tried to return to the country.
It's incredible how long Hetty has been deeply enmeshed in international espionage and law enforcement. Her admission that she was moments away from potentially saving Callen's mother was stunning.
This also solidifies her place as his mother figure, which we've observed for two-plus seasons now. Hetty-Gibbs comparisons don't come along too often, but she's as close to family as this agent has.
The question now is how will Callen respond? Will he finally be at peace?
Forget about it. The show managed to give fans a ton of new details while at the same time opening the door to another mystery in the identity of his father. Funny how that happens in the NCIS world.
Chris O'Donnell was called upon for some pretty serious acting in this installment - those kind of life details aren't dropped on your lap every day - but was convincing. Linda Hunt, as always, was stellar.
The episode opened similarly to how NCIS did an hour earlier, with a reporter on the scene followed by a death on camera. I enjoy little tie-ins like that, though the shows are markedly different overall.
In LA's case, a reporter was slain just as she was about to do a story on a Libyan freedom fighter named "El-Libi." Libya, as we know, is under siege from insurgents attempting to oust Muammar Gaddafi.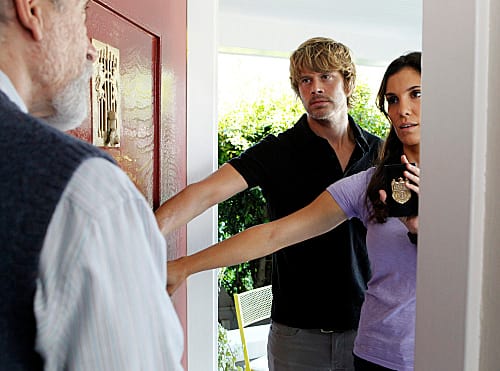 El-Libi broadcasts from the U.S., and is clearly a target of a Libyan government desperately clinging to power. A U.S. citizen, he started "radio free Libya" after Gaddafi shut down the Internet in Libya.
Despite appearances, he did not send his message to the rebels from Libya or anywhere near North Africa. He was broadcasting from a Middle Eastern market deep in the heart of the City of Angels.
A Gaddafi loyalist, the market operator and El-Libi's father learned about this and informed Libyan secret police, betraying his son. Only this happened some time ago ... and El-Libi is not who he seems.
Rather than merely eliminating him, Gaddafi's men impersonate El-Libi to lead the rebels fighters into a trap and slaughter them. Fortunately, Callen and the team were able to thwart this just in time.
Another strong episode overall, well tied in with current global events and featuring some fun character moments on top of Callen's backstory. Not a lot more you can ask for from NCIS: Los Angeles.
A few closing thoughts and observations before turning it over to you ...
It's great to have the traditional partnerships back and Hunter gone, although you know she's bound to resurface at any time. The only question is when and under what circumstances.
Callen's sister was mentioned once again. Hmm ...
Is Deeks actually getting some or is he all talk?
Sorry Sam. Team Monty all the way.
What did you think of last night's NCIS: Los Angeles? Discuss!
Steve Marsi is the Managing Editor of TV Fanatic. Follow him on Google+ or email him here.