The "The Genuine Article" walked us through the artifice of all of our Pan Am characters and the lives most of us live every day. Laura was again being photographed for a follow up to the Life Magazine article, and it hit her hard how difficult it was to be natural once you possessed actual experience, something she didn't have when the first photos were shot.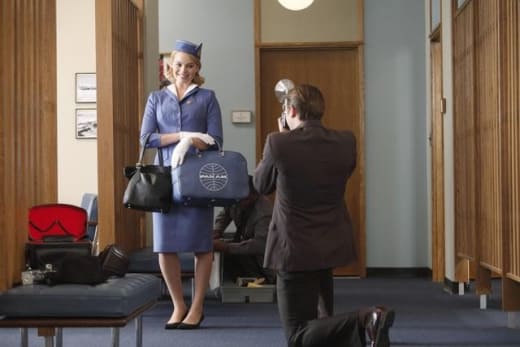 The title played on throughout the episode in many different ways, and we'll examine some of them below. It would be easy to point to the fake handbags and jewelery being sold on the streets of Rio de Janeiro as the origin, but the in-authenticity went much deeper.
Who is Maggie Ryan?
Prior to now, seemingly smart as a whip with the sass to back it up, Maggie was an unknown loose cannon. Always in trouble, fighting for her rights. It was interesting to learn how she escaped her small town life to become a Pan Am stewardess. A bad tip started her migration. Three cents was insulting even in 1960s dollars. A well-meaning trucker was discouraging her from continuing down a dead-end path.
The biggest surprise was that Maggie didn't go to college. Nor does she speak the languages she claimed. She is, as Laura put it, a fake. Working in the registrar's office at Berkeley, she had access to classes and a transcript. It's a bit reminiscent of Mike Ross on Suits. He was fully prepared to be a lawyer, but just didn't have the qualifications.
Maggie uses attitude and fiery wit to propel herself from each of her life's steps. This time she came too close, and used a dirty secret she heard to save herself. It will be interesting to see how it plays out in the coming episodes, but offhand I'd say it won't buy her any popularity.
The powerless and the empowered
The Pan Am Vice President called Ted by the wrong name. Vanderwick instead of Vanderway. It was such an insult, but just rolled off his tongue. The captains look up to someone who can't even keep their names straight. Henson seems to have it all, but he can't keep his mistress from falling in love with Dean.
Ted becomes more empowered all the time. He read the Feminine Mystique to better understand women. At least he cared enough to try! He has in him something deeply moving, but covers it with his funny guy persona, most likely out of fear. It's easier to be beaten when you've already torn yourself down.
When Laura and Maggie were in trouble, who came through for them? Ted, who, for all of his faults, is always there when someone on his crew needs him. He laughs through these "adventures" and plays them off, but his heart's desire is to be the man slowly nudging his way out.
A true romance
Every week I become more enchanted with Kelli Garner. Her portrayal of Kate is so incredibly real. She can be feisty and soft in the same scene, and with each episode she draws me further into her web. Part of her magic is the fact that I don't know if she's playing coy or experiencing sincere feelings. Their pairing is intriguing. Together they smolder.
It seems we'll be seeing more of Goran Visnjic, as Kate's new assignment is to turn him into a United States spy. The more time she spends with Nico, the more she understands the plight of his people and how strongly he feels for his own country, much as she does her own. I love the historical aspect of this storyline, especially since Yugoslavia is no longer.
While Maggie is an illusion, Kate is credible. She is steadfast and fights for her beliefs. With as much as she wanted to help her country and engage in the excitement of espionage, I don't think she ever imagined her heart would would be her weakness. Laura was the sappy sister, Kate was pragmatic. How well will she handle being idealistic?
Overall, I'm enjoying the depiction of these characters and their lives in the tumultuous 1960s. Colette was once again the odd woman out, and her lack of story would concern me if they hadn't built such a solid foundation for her a few weeks ago. Surely there is another strong performance waiting in the wings.
Carissa Pavlica is the managing editor and a staff writer and critic for TV Fanatic. She's a member of the Critic's Choice Association, enjoys mentoring writers, conversing with cats, and passionately discussing the nuances of television and film with anyone who will listen. Follow her on Twitter and email her here at TV Fanatic.