It's the Project Runway grand finale and Josh is still ticked we have a final four and not a top three.
As the finale sets off, our creative quartet is given a surprise trip to Mood with $500 to add to their collection. This gift is a godsend for some. Anya's collection needs help and the influx of black and white prints is just the ticket for her.
But for Josh and Viktor, it may be a double edged sword. With the ability to change their collection also comes the possibility of fixing something that isn't broken.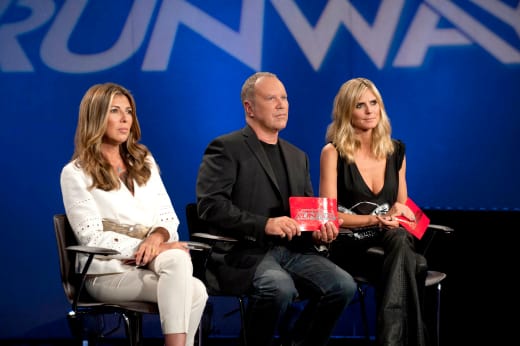 Back in the workroom, Tim stops in to make the rounds and give his critique. I love it when he admits he found judges comments frustrating during the last runway. It appears he loved all of the things that they hated and it's such fun to hear Tim speak up about it. We never get to see that side of things after the judging is done.
When Anya talks to Tim it sounds as though she's giving up. She feels like she's in over her head and the tone of defeat in her voice is a little heartbreaking. She's so talented. I wanted to run up and shake her and tell her to work her ass off until the very end.
Tim isn't thrilled with what Josh is doing. He's going back to the neon he wanted from the beginning. After talking to Tim, Josh says he feels like he was just tackled by a linebacker. Really? Tim, a linebacker. In what sport?
Kimberly insists on including that damn bubble skirt or as, Josh calls it, the booty skirt. I hate it no matter what you call it or what color you make it in.
Viktor seems to suffer the most from the influx of cash and materials. He ditches several outfits and makes five more in see through black chiffon. The judges liked what they saw last week. Why change it so drastically? I think he's headed in the wrong direction but what I think doesn't matter much.

On to the judging...
Kimberly: Her collection looks great. Very urban, cool, and modern. The judges love it. She took all of their advice and made it work for her but Nina questions if she's really ready for her own line.
Viktor: Everyone loves his printed pieces and his one long print dress is amazing. It's nothing I could ever wear but I love it just the same. Guest judge L'wren Scott says she can picture some Hollywood starlet wearing that dress and she's right. It's that stunning. But the black see-through outfits are too over the top. Heidi says it's like viewing two separate collections. Did Viktor mess with a good thing?
Josh: Heidi completely gets his point of view. She and Michael like the psychedelic prints and the use of plastic and neoprene. Josh's clothes aren't something that I'd ever wear but it certainly is a unique look and its very well done. Nina thinks he is the most improved of the bunch but is it enough?
Anya: The judges love the island vibe and all of the printed fabrics but Heidi's concerned that eight out of ten looks have a V-neckline. Her opening dress is Michael's favorite of the entire show. It's sexy without being slutty. Anya has taste, style, and a great eye but her penchant for waiting until the pressure is on is a little worrisome.
Who is going home? Kimberly's out first. They expect to see amazing things from her in the future but this isn't her time.
Next to go is Viktor. I think he might have had this if he had left his collection the way it was. The gift from Mood turned out to be more of a curse.
It's down to Josh and Anya and the judges really surprised me, in a good way, as...
... ANYA WINS! It's a Cinderella story for the girl who just learned how to sew. They think her line is more commercial and I think they're right. So glad Anya's good Karma came back to her.
The Tim Gunn Hug Report:  It's the last official installment. Tim gave out encouraging hugs to each designer, as they watched their work go down the runway, but the embrace Anya got at the end was serious and heartfelt. Go Tim!
C. Orlando is a TV Fanatic Staff Writer. Follow her on Twitter.