The name is Spencer. Shawn Spencer.
Among Bond references, action figures, international intrigue and lie detector tests, one thing is for sure: Shawn and Gus are back in action! After 10 long months, Psych-Os can finally rejoice that their fan favorite has returned for a hopefully uninterrupted 16 episodes, starting with "Shawn Rescues Darth Vader!"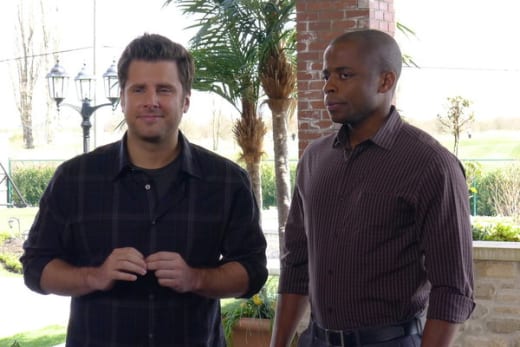 While I got the pleasure of watching the premiere at Psych Fan Appreciation Day, I didn't hesitate to also view with the rest of the world tonight - and I probably laughed harder this time that I did the first.
Throughout the entire episode, one theme jumped out at me: Immunity.
No matter what the situation, Shawn always seems to wriggle his way out of it. He aced the lie detector test, "proving" he wasn't at the ambassador's mansion despite the audience knowing otherwise, and managed to semi-permanently establish himself as psychic.
The flashback (which, oddly enough, took residence at the end of this week's episode) is the one scene that comes to mind. I can't help but hear Henry say "You've got to believe the lie." Has Shawn really begun to believe he's invincible, or at least actually psychic? I think there's plenty of moments to point to that would prove otherwise as far as his abilities go: he didn't see what was happened to Mary Lightly coming, did he? It's a dark example, but it proves he's not infallible.
Do I think he'll be immune from anyone really questioning his abilities, at least for now? Yes. I think it might only become a problem as Shawn and Juliet start getting closer and he realizes that he isn't going to get away with it for much longer. But who knows how long until that happens? I hope awhile. I enjoy the hilarity too much to desire the drama, though little delicious sprinkles of it are welcome.
But let's look at all the other fun things we learned from the lie detector machine:
We finally addressed the big pink elephant in the room... and rather publicly! Shawn loves Juliet, and now all relevant parties are aware, including the Chief. Love that she rejected Carlton's request for a new partner. He was being such a big baby about Juliet dating Shawn. But I loved every minute! He is so dynamic, and we'll be seeing a lot more of that later on in the season.
Lassiter also set Shawn straight about dating his partner. If he makes one wrong move he can know he will be shot. Repeatedly. Tread lightly, Shawn.
As for Malcolm McDowell, good work, sir. Love to see him guesting on this show. Hopefully we can bring him back at some point. It was good to have him! And he was a riot in the Psych-out! He is a man of many accents!
Other good moments:
Shawn and Gus fighting with the ambassador's son.
Shawn asking what privileges immunity allowed him.
Henry pulling Shawn aside for "a word."
Shawn's British accent.
The Chief putting Lassiter in his place.
Woody's timely and perfectly timed appearance.
Who's totally Psych-ed for the Hangover inspired episode next week?! I know I am!
Beyond pleased that my favorite show is back on the air and looking better than ever. Aren't you?! Welcome back, Psych!
For a look at what's ahead, watch the show make like The Hangover on next week's episode NOW.
C. Charles is a TV Fanatic Staff Writer. Follow her on Twitter.