My affection for Revenge aside, I've wondered since the pilot: how long can this plot sustain the show? There are only so many people to take vengeance on, right? And only so many ways to do so.
So far, though, I've been worried over nothing. "Duplicity" was one of the best episodes to date and I feel more connected to Emily/Amanda than ever before.
What did Victoria have to fear from this little girl that she'd want to see her institutionalized? Amanda obviously believed her father was set up, but she was just a child. I doubt she had proof.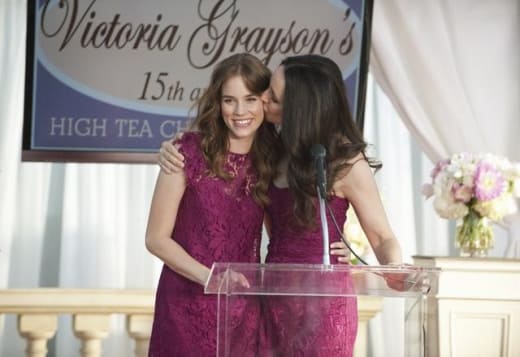 Emily has been seeing Dr. Banks for a year in order to set her trap. Damn. Now that's commitment. But if someone had treated me that way when I was a vulnerable kid, I'd want my revenge too. This one was truly personal.
I couldn't believe that Emily set Victoria on Dr. Banks. That was brilliant... but how did she get the good doctor knocked unconscious and locked in that storage unit? The evil witch bullied a grief stricken child in order to further her career. She deserved more than to lose her practice and endure one night of fear. Heck, I would have wanted her to suffer in that storage unit a whole lot longer.
On other fronts, what is up with Tyler? At first I thought perhaps Victoria had hired him to keep Daniel and Emily apart but that's not the case. So why was Tyler so intent on getting Daniel wasted and keeping him away from Emily? I hope we get that back story soon.
Nolan's really growing on me. He got all the best lines of the night and seemed to actually care about Emily and Jack. Plus, this was the first time I felt the chemistry between those two. Still, I doubt Emily will let it go anywhere. Jack was part of her past - and her present/immediate future are consumed by her need for, yup, you guessed it, revenge.
Declan and Charlotte seemed to be our only hope for love to blossom. Those two were just adorable and we need that ray of light in this otherwise twisted plot.
So Conrad's still keeping Lydia on the side. Emily's got his head spinning trying to figure out who used his lap top to set him up. He obviously suspected Lydia but that wasn't enough reason not to sleep with her. Can you imagine how Victoria's going to react when she finds out he's still bedding her ex-best friend?
Overall, Emily Thorne is one of the most deliciously devilish characters to grace my TV screen in a long time. What makes it more fun is that the people she's after are even more evil than she is. They deserve to suffer her revenge and I can't wait to watch and enjoy the show.
C. Orlando is a TV Fanatic Staff Writer. Follow her on Twitter.