What do you get when Tony-award winner Robert Lopez stops by to write a South Park episode with his fellow Book of Mormon co-creators, Matt Stone a Trey Parker? A "Broadway Bro Down" of course!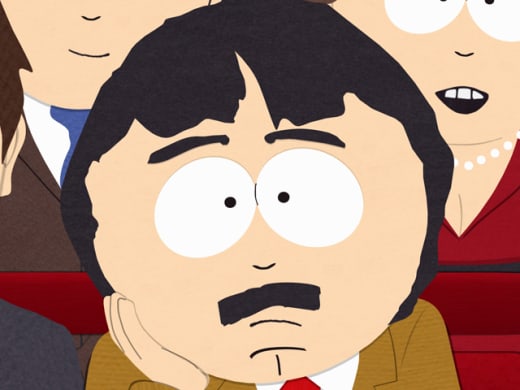 I knew I was in for a weak half hour when the episode opened insulting my Dolphins and praising Tim Tebow. I mean, seriously, Miami makes for way too low hanging fruit for these guys.
From there, Randy quickly discovered what pretentious men around the world have known for years: Broadway musicals lead to blow jobs. But Randy was let in a little secret the rest of us never learned and that's why. It's not a nice evening out with your woman. It's the subtext.
Clearly, so many aspects of the episode were meta. I'm sure Stone and Parker (and probably to an extent Lopez) were probably considered a little too "bro" compared to their established Broadway composers. And I'm sure they really were lectured at first for not putting enough "subtext" in their show. Not so much in terms of blow jobs, but you get the idea. But no how matter how clever an episode of South Park gives is, we watch it for the comedy, don't we?
There were definitely some fun theater references, including the most appropriate costume Randy could have grabbed to sabotage a play, Spider-Man, but was the one-note joke of the blow job really enough to sustain the full half hour of laughs? For me, not so much.
Oh, and then there was the B story of the vegan family. Sure, it seemed to tie-in nicely with the Broadway adventure at the end, but it still felt undeveloped and, well, not that funny. And the life jackets? That connection felt a little forced and too convenient.
Maybe the episode just needed a little more Kyle, Kenny and Cartman, and a little less Stephen Sondheim, Andrew Lloyd Weber, and Elton John. The installment was clever in concept, but just not that funny.
But, bros, what did you think? And you know where to go to view and submit your favorite South Park quotes from the episode.
Eric Hochberger is the programmer of TV Fanatic, so please forgive his mediocre writing. His programming is far better. Follow him on Twitter and/or email him. Just don't request threaded comments. They're coming.