Faced with the job of a lifetime, Will chose to continue doing what he loves on "Feeding the Rat." The only questions for viewers, following a stage-setting episode of The Good Wife, was this:
Is he talking about work... or Alicia?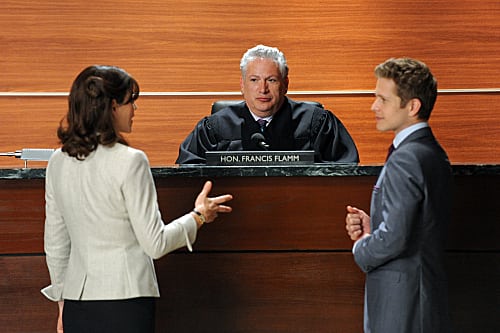 It was almost comical to hear Will and Alicia agree that she's a "no fuss, no muss" kind of woman. For two-plus seasons, the Alicia Florrick we've known is all fuss, entirely muss. She analyzes every situation. She wonders if she's a good enough wife, or mother or attorney. She's never entirely sure about the path she's on.
Yes, Alicia is trying to be the laid back gal who is eager to get it on with her boss in his private bathroom these days, but it's a struggle. A new haircut doesn't automatically equate to a new attitude, although it has led to a much funnier Alicia. Loved the jab at Jackie in her final conversation with Will.
But like most storylines this week, the L word debate mostly laid the groundwork for what's ahead. When will Alicia and Will go public? Will they remain on the same romantic page? How will Peter react when this relationship does get out? And, seriously, how tension-filled and perfectly-played are all Will/Peter scenes?
Elsewhere, pieces were moved within Lockhart/Gardner, as I can only hope Diane's decision to take on Legal Aid means more Romany Malco on the series. He's been a favorite ever since his stint on Weeds. Eli didn't exactly get what he wants, but I did: more Eli/Kalinda scenes, a humorous analysis by the former of the "mom and pop" company around him and more adult conversations between characters.
Meanwhile, is it safe to already say that Cary has a new love interest? The insertion of that UASA felt a bit random, but I wouldn't dare argue with more screen time for the man with the smarmiest smile on television. Cary hasn't had a lot to do so far on season three, so let's hope he and the Reverend's granddaughter make for an interesting duo, professionally, personally or both.
Finally, is this the last we've seen of Lisa Edelstein? Do you want it to be? Celeste has been a welcome addition, in my opinion, used just enough to shed more light on Will's past and to help him see what he wants from his future. It may involve circling the bases, but not as baseball commissioner, as Alicia's serious boyfriend. But will she give him the stop sign? Or will she let him swing openly, passionately for the fences?
And will I apologize for using such lame, obvious baseball metaphors? No, I will not: this episode was a double.
Matt Richenthal is the Editor in Chief of TV Fanatic. Follow him on Twitter and on Google+.