So, TV Fanatic Poll Maker, you wanna know the identity of TV's Sexiest Female Sidekick? That's easy. Four words, one dirty mouth: Pamela Swynford De Beaufort.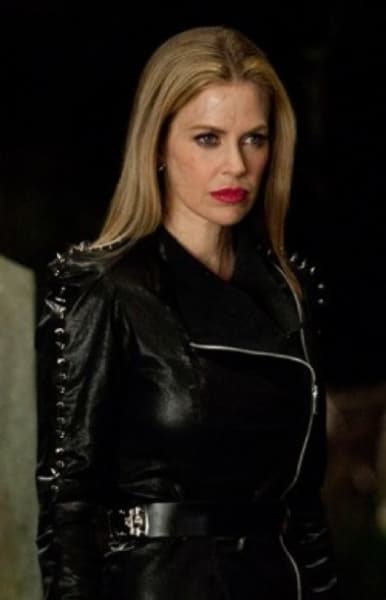 I could go on and on about all that makes this Kristin Bauer-portrayed character the most delectable vampire in all of Bon Temps and beyond, but why bother? She can do it for me...
Let's go to the ladies' room and stare at ourselves in the mirror.
I will give you twenty-four hours to deliver that witch to me. And if you don't, I will personally eat, f**k and kill all three of you.
I don't know what it is about me that makes people think I want to hear their problems. Maybe I smile too much. Maybe I wear too much pink. But please remember I can rip your throat out if I need to. And also know that I am not a hooker. That was a long, long time ago.
The point is clear: this is one vixen who is comfortable with her sexuality. She wears skimpy clothing, she speaks her mind and, let's face it, she likes to get it on! With both genders! Yes, Pam is an equal opportunity sex fiend, the only finalist in this poll who could please all readers.
She also epitomizes the concept of sidekick, loyal to Eric Northman until the very end. She'll fight with him, she'll scheme with him, she'll do anything her handsome boss desires, clothes on or off.
Can any of the following ladies say the same? I didn't think so. Pam has my vote. Who has yours? The poll closes at 5 p.m. EST on Friday, November 4.
Poll is now closed! Here are the results:
Kono Kalakaua (Grace Park) - Hawaii Five-0
3.8%
Britta Perry (Gillian Jacobs) - Community
1.1%
Angela Montenegro (Michaela Conlin) - Bones
7.9%
Donna (Sarah Rafferty) - Suits
4.3%
Fiona Glenanne (Gabrielle Anwar) - Burn Notice
3.4%
Pam De Beaufort (Kristin Bauer) - True Blood
7.9%
Caroline Forbes (Candice Accola) - The Vampire Diaries
27.7%
Astrid Farnsworth (Jasika Nicole) - Fringe
7.4%
Sarah Walker (Yvonne Strahovski) - Chuck
30.4%
Bonnie Bennett (Katerina Graham) - The Vampire Diaries
6.0%
Matt Richenthal is the Editor in Chief of TV Fanatic. Follow him on Twitter and on Google+.