What I love most about Boardwalk Empire is its ability to constantly thwart our expectations. The show not only maintains a consistent level of quality but also allows the story and the characters to grow.
After last week's violent ending, I fully expected Nucky to react as he always has in the past, swiftly and cruelly. However, in "Two Boats and a Lifeguard," Nucky displays his most valuable quality: patience.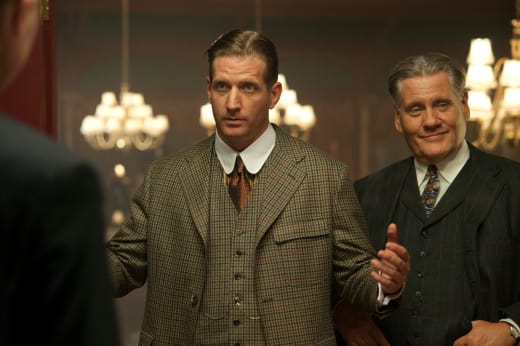 Seeming to heed Margaret's advice, Nucky eschews his greed and vengeance for a safe early retirement. When speaking to the Commodore and Jimmy, he reminds them all of the brevity of existence and claims that he only wants to enjoy his life (and wealth) with the women he loves. Indeed, he has been embracing his family life, even asking the kids to call him dad. To most people, Nucky's retirement was a logical and necessary step.
BUT Eli is correct when he warns Jimmy not to underestimate Nucky. True, Eli hasn't always been the best ally for Jimmy, but it would be wise for Jimmy to listen to Nucky's brother. Nucky isn't giving up so easily. Jimmy, Luciano, and Lansky were wrong to assume that just because their bosses are older that they must be slower. They've all underestimated the real strength in this seasoned gangsters.
It was exciting to watch the city bosses get together to discuss their younger soldiers. Torrio and Rothstein realize that the attack on Nucky could have consequences for them as well. As Nucky points out, "the pups have grown fangs, gentlemen." What happened to Nucky could easily happen to Torrio and/or Rothstein. I really enjoyed this scene mostly because of Rothstein's cool presence. He's usually at the margins of the show, but he's always an enjoyable character to watch. Rothstein is clever, ruthless, and expertly in command, which makes him the perfect gambler and boss.
That's probably why Nucky ends up following Rothstein's advice and not Margaret's. Waiting for the opportune moment will serve Nucky far better than striking now when his resources are at their lowest. He's already set a number of things in motion even before his enemies can finish their celebration. For one, his final "screw you" to the new treasurer, the ever-smarmy Neery, was to advise Chalky to incite his community to strike. And the other plan is little less clear for now, but it definitely involves his Irish Nationalist friend, Mr. McGarrigle.
I was definitely worried that Nucky might be a little suspicious about Margaret's affair when he began questioning Owen (Nucky is perceptive and very informed), but I (and Owen, I'm sure) sighed in relief when their conversation moved to John McGarrigle. It's clear Nucky has some kind of deal to offer, but what? How does Nucky plan to use McGarrigle to get back on top?
This week. I was also glad to hear that Jimmy doesn't truly want Nucky dead, but I couldn't find much else to like about Jimmy. Despite working so hard to prove that he is not boy, Jimmy still allows others to guide him and rises to every insult. Jimmy admits that he let his mother talk him into having Nucky killed, even though he disagreed with the whole plan. Shoving Mickey off the balcony may have been meant to show his strength as a boss, but it just made him look petty. None of these actions show that Jimmy's ready for all the power he's just inherited.
The real question is: How long before Jimmy's reign ends?