Body of Proof gave me flashbacks. Not to any rave I've ever been to, but to those cheesy after school specials they used to show on TV. Despite a few bright moments, "Hard Knocks" wasn't one of my favorite outings for the series.
It started with Bud and Samantha breaking the news of the Jake's death to his parents. It was the cliche of the parents being the last to know as mom ran upstairs to wake up her son, only to find out he had snuck out the night before and really was dead. The father reacted with typical denial and I found the entire scene tiresome.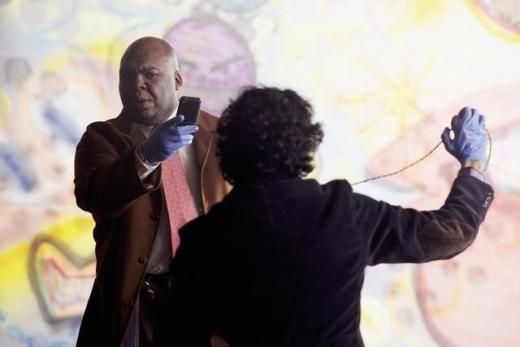 Jake turned out to be your regular high school bully and I picked Maxine as the killer as soon as she turned up. Isn't it always the geeky honor student/scorned love interest? Even the ring being flipped felt like something we've seen done before.
As usual, the high point was Curtis. His dance moves at the rave sight were unexpected and very funny. And his annoyance at Derek popping up at the morgue was fun. I can always count on Curtis to make me smile.
I was happy to find a reason why Bud was so uneasy around kids. His wife's pregnant and he's more than a little apprehensive. Considering they just got back together, I could understand his concern. Hopefully he'll warm up to the idea soon.
I liked Derek Ames but felt his return was overshadowed by Megan's case and her concerns for her daughter. Megan deserves a real love interest. Why bring Derek back just to jerk him around? It seemed like a wasted opportunity.
Who dressed Tod in this episode? That shirt and pull over sweater were simply awful.
Tod's never been one of my favorite characters but I got how a he'd want to jump at his amazing job offer. Of course I thought that Lacey having a strong relationship with her mother should have outweighed his other issues. I was surprised that he asked Kate to come along. Thankfully, she had the good sense to turn him down.
So Lacey was hiding out at Megan's and she had no idea the girl was there?!? That's a bit disturbing. As much as I appreciated Lacey putting her parents in their place it shot me right back to those after school specials.  Did I mention... I never really liked those.

As much as I enjoy these characters, this just wasn't one of Body of Proof's better hours. Will Tod stay or go? Will he and Kate continue to date? Will Megan take the leap with Derek? Honestly, I'm just not sure how much I care. I hope for better next week.
C. Orlando is a TV Fanatic Staff Writer. Follow her on Twitter.