A strange death that had the markings of a Twilight convention turned out to be far scarier as "Love Bites" had me looking under the bed for baby snakes.
When the body was found without blood, I kept expecting to find a vampire twist in this episode. Maybe a blood fetish cult, perhaps, but I would never had guessed that venom from a baby viper could possibly cause that type of carnage.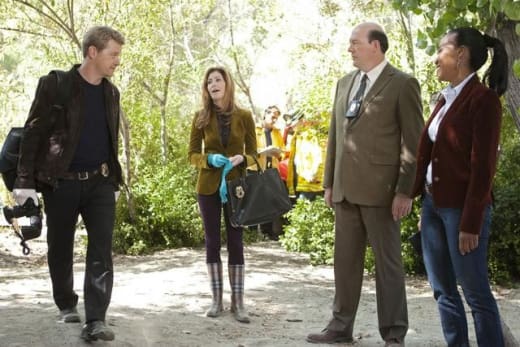 I'll give Body of Proof credit, that crime scene was frightening and they didn't have to show a drop of blood, just the blue glow of where it once was. Add to that the scratches on the wall paper and the imagination filled in the blanks that made for a horrifying death.
Thankfully we got a few moments of humor thrown in. I loved the large, male security guard named Sue. Being a Johnny Cash fan I couldn't help but laugh.
Bud's conundrum over what to name his unborn child was cute. It's true, you could name your child almost anything these days. The choices are overwhelming but the child will live with your decision for the rest of it's life. Poor Bud could chase down murderers but the thought of naming his child made him sweat.
Thank goodness Kate finally broke up with Todd. I've never liked the guy. She could do better and it said a lot about her character that she apologized to Megan for not thinking through the consequences of dating her colleague's ex.
What was up with the attorney that Megan's mother had in her chambers when Megan stormed in? If I had to guess, I'd say this isn't the last we'll see of him but does that mean the FBI agent love interest is gone? I wouldn't complain if it did. I didn't think that storyline was heading anywhere.
The Lacy story was a bit boring as Joan took over for her granddaughter. However I did like that she told off all of the grown ups in Lacy's life and not just Megan. Maybe someday we'll get to see Lacy's newly designed room.
Overall this was one of the better murders of the season. It kept me guessing and freaked me out all at the same time.
What did you think of this week's Body of Proof? Comment on it below!
C. Orlando is a TV Fanatic Staff Writer. Follow her on Twitter.