Cha-ching! Another winning episode for Castle. The latest installment centered around the murder of a co-owner of an Atlantic City casino, giving the boys a chance to throw a bachelor party for Ryan; and for Gates and Beckett to spend some time together. So get ready to make a bet. Let's discuss and debate "Heartbreak Hotel."
Case Time. How much fun was this investigation? The boys were pretty much front and center, taking the lead down at The Sapphire. One thing this season has continued to deliver is more screen time for Ryan and Esposito and they have totally been pulling it off. A couple weeks ago we had Esposito dressed like he was on Fresh Prince of Bel Air, and now we had some Elvis impersonators. This was classic Castle. How could you not laugh out loud at the three of them in their Elvis costumes? Loved it.
Guest starring was the ever popular Richard Burgi. This man is always spot on in whatever character he's playing on any show. Why isn't he a leading man somewhere? I'm pretty sure I'm not the only one who would watch that series. He just gets better looking as time goes on. But anyways...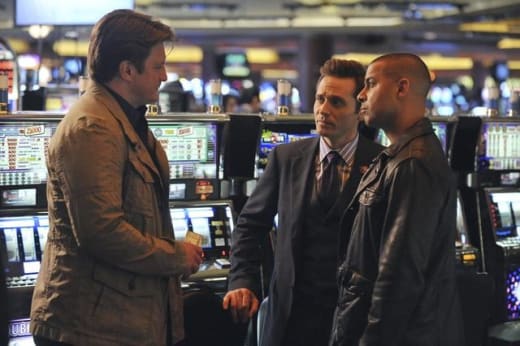 Girl Time! Leaving Beckett back in NYC put her together with the more present Captain Gates. These two work pretty well together, as Gates immediately laid out a challenge to the detective: I'm looking forward to seeing what you can do without him.
This is really the first time Beckett was without her non-cop partner. What did you think? Can Beckett keep up without Castle at her side? She definitely was still quick on her feet with the facts, but she admitted to Gates that Castle's wild theories and not being a cop are what make him so good. Last episode she didn't deny he was her boyfriend. This one she defends him. Looks like a pattern...
Bachelor Party!!! The boys throwing an "Impromptu Bachelor Party While On Case" was great. Although we didn't get to see the actual party (big loss on our part), we got to see Castle stumbling in and Esposito got his moment of being the fake best man. The only thing that could have made this better would have been actually being a part of it.
Side Notes...
Castle had been a guest at The Sapphire before and definitely enjoyed himself. Disorderly Conduct? Check. Mattress on fire? Check. Jam on the curtains? Strange but check! Rick Castle should be a standard staple for any parties thrown in the future.
Alexis was

acting out

 being a normal teenager post break up by having a

small get together

party while her dad was away. I was worried she may not stay true to her character, but sure enough, girlfriend kicked out the crashers and cleaned up. Plus, she reminded me of the high school boys I absolutely do not miss. "He has the IQ of a squirrel." Perfection.
Lanie finally made her way back into the footage, sharing a small scene with Esposito. This felt awkward and a little forced. We know they broke up, and while sad, not too many people care. We weren't given enough time to become emotionally invested. Unless they are going to get back together at the hands of Castle or Beckett or at Ryan's wedding... time to leave it alone.
Another enjoyable and light-hearted episode of Castle
.
Nothing makes Mondays more fun than an hour of Nathan Fillion. Bad news? Next week we will not have that hour. The show will return in two weeks with an installment that
looks much heavier
than the party we just discussed. 
And the winner is...
So after reviewing all of the viewers comments, there is one combined name that stuck out by a landslide. The official shipper name for Kate Beckett and Rick Castle will be
Beckle
CASKETT
!! TV Fanatic readers have come out and debated their names, shutting down Beckle and a few others. Thank you everyone for making your voice heard and let's keep the comments coming!
Okay, ladies, gents, and Caskett fans - meet me back here, same time, same place, two weeks from tonight! Until then, sound off and let us know what you thought of "Heartbreak Hotel."