It was really difficult to take notes on this week's Community, considering Pierce's father's ridiculous wig kept staring at me through the screen. Yes, "Advanced Gay" introduced us to Father Hawthorne and it was NOT a welcome meeting.'
The episode started off solidly, with everyone getting along and Pierce in a jolly, less judgmental mood. Plus, I can never resist a YouTube sensation. I got a pocket full of Hawthorne wipes!!! Then, things took a turn for... well, for a very touchy route.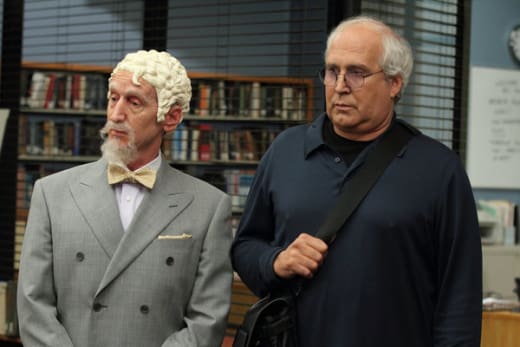 By no means is Community opposed to tackling controversial issues and writing non-PC jokes, but this episode was sure to offend just about everyone. Still, I guess that was the point. Did you notice that in the face of homophobic, racist, and prejudicial comments that this was the first installment in weeks that didn't have the group at each other's throats?
Jeff actually stood up for Pierce. Of course, he ended up inadvertently killing his father... but that happens. Everyone was more or less a cohesive unit for a change is all.
Things I loved included, but were not limited to: Britta's pronunciation of Oedipal as "edible," and her subsequent obsession with exposing Jeff's daddy issues. One doesn't need a psych degree to notice that. I cracked up when the priest called Britta out at the funeral. This week really upped the Britta/Jeff fighting, aka sexual tension.
When Troy was cruising through the hallway, at first I thought the creepy vents were an indication that Chang might be living in there again. But, instead, it led us to a classic college kidnapping scene in the vein of Old School and many movie fraternities over the years. It was good to see John Goodman again, though I've seen him in much funnier roles.
Something I found hard to believe, besides that awful wig, was the fact that Dean Pelton has never thrown a gay pride party before. Also, why was he so covered up in that Tron outfit?!? Dean Pelton lives for skimpy costumes!
Overall, the best part of this episode - besides Pierce's sudden tolerance - was the fact that everyone was getting along. We all know that the study group functions more as a dysfunctional support group. Check out our favorite quotes and don't forget to hit the comments!