Ricki Lake and J.R. Martinez enjoyed co-frontrunner status heading into last night.
With that label comes more pressure, and only the former lived up to expectations.
Lake's team won the group dance by three points, bolstering their odds of survival, while she turned in the best solo routine of the week with partner Derek Hough, earning nines across the board.
J.R., meanwhile, gave a performance that was substandard according to the judges, and finds himself mired in fourth place. We still suspect he'll stick around over David Arquette or Nancy Grace.
Grace, if we're going on merit here, should be the one out the door tonight. She's shown some flashes this season and made it seven weeks, but her dancing last night was devoid of ... anything.
Rob Kardashian, meanwhile, stepped it up big time - a much-needed positive jolt for a family reeling from Kim Kardashian and Kris Humphries' divorce filing. Kim K. was not on hand, obviously.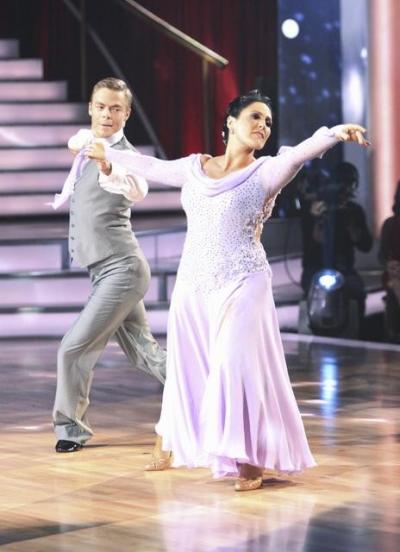 Maksim Chmerkovskiy had a nice week, especially after his team proved superior in the group format, ending the night in third place. The heated exchanges were at a minimum last night, too. Thankfully.
There's nothing anyone can do about the standings now, other than rally support from voters to better their odds. The scores for the seventh night of Dancing With the Stars performances (solo, group):
Ricki Lake & Derek Hough: 53 (27, 26)
Rob Kardashian & Cheryl Burke: 51 (25, 26)
Maks Chmerkovskiy & Hope Solo: 50 (24, 26)
J.R. Martinez & Karina Smirnoff: 48 (25, 23)
David Arquette & Kym Johnson: 47 (24, 23)
Nancy Grace & Tristan MacManus: 44 (21, 23)
Who was your favorite Monday? Do you think anyone was treated unfairly by the judges? Who's your pick to make it all the way to the finals, and who do you predict is on the way out Tuesday?
Follow the link for much more coverage of Dancing With the Stars!
Steve Marsi is the Managing Editor of TV Fanatic. Follow him on Google+ or email him here.