Ricki Lake and J.R. Martinez have been exchanging the top spot all season on Dancing With the Stars, but dark horse Rob Kardashian wasn't kidding when he said he was peaking at the right time.
The underdog may well hoist the coveted Mirror Ball trophy after the final night of performances saw him take the lead for the very first time this season, netting his first perfect 30 in the process.
If you've watched this season at all, you knew he was good, improving to the point where he maybe even had an outside shot if one of the favorites stumbled. But who could have foreseen this?
Rob and Cheryl Burke earned a perfect 30 with a Charleston-like freestyle. Then they tacked on a 27 later in the evening for an impressive aggregate score of 57. Their competitors each tallied 54.
J.R. Martinez and Karina Smirnoff earned a 30 of their own with their second routine, an '80s hip-hop / samba mash-up, but their first dance, deemed "not very good" by Len, netted only 24 points.
Meanwhile, Ricki Lake and Derek Hough received two sets of all nines Monday, good enough to keep them in striking distance even if perfection eluded them. It's really anyone's game tonight.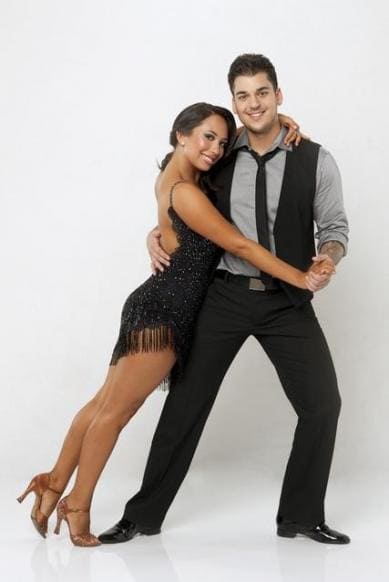 Can J.R. or Ricki derail Rob's surprise run for the Mirror Ball?
Kardashian's lead isn't big, so a strong turnout for one of the other contestants would likely vault them to the title. But if we can rally enough votes of his own, there could be an upset Tuesday.
There's nothing anyone can do about the standings now, other than rally support from voters. The scores for the last night of Dancing With the Stars performances in Season 13 were as follows:
Rob Kardashian & Cheryl Burke: (27, 30) 57
J.R. Martinez & Karina Smirnoff: (24, 30) 54
Ricki Lake & Derek Hough: (27, 27) 54
Who was your favorite dancer on Monday? Do you think anyone was scored unfairly by the judges? Can Ricki and/or J.R. overcome Rob's narrow advantage? Who's your pick to win this thing?
Follow the link for much more coverage of Dancing With the Stars!
Steve Marsi is the Managing Editor of TV Fanatic. Follow him on Google+ or email him here.