It may be contrived, but I'll take it.
This week, Dexter viewers finally watched the title character get prominently involved in the most significant, gruesome serial-killing case the show has ever portrayed. It's been incredibly odd to see Dexter so obsessed with Brother Sam and some notion of light versus dark that he essentially overlooked the sort of case that would typically grab his attention.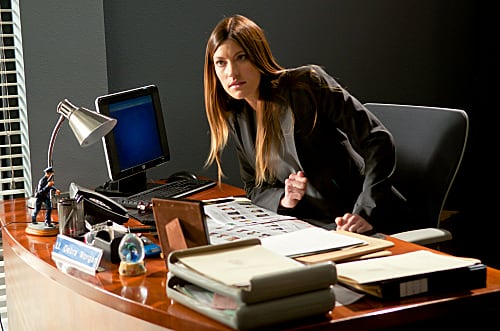 And, even now, it's unclear why he's working against the police instead of with them. As I've noted before, there's no reason for Dexter to be on his own in this instance. In the past, he only took it upon himself to track down killers when the cops have failed, or when there's something especially personal at stake (e.g. Trinity). But here? Of course he's committing a "Sin of Omission," there's simply no rational reason - or any Dark Passenger-related reason - for why he wouldn't tell everyone else about Travis.
So, yes, it's forced suspense. But, hey, it's suspense nonetheless. I certainly moved toward the edge of my seat when Dexter entered the abandoned church, didn't you?
My favorite aspect of the episode, though, actually did not focus on DDK. In the main one of three arcs that focused on brothers and sisters, Dexter and Deb dealt a bit with their communication problems. It was a nice change of pace for a relationship that, as the therapist pointed out, has remained constantly strong... and constantly comprised of Deb spilling her guts to her sibling.
Fans will likely start speculating now on whether this means Deb might start digging around her brother's life more and perhaps, finally, discover his secret. But Dexter just got picked up for two more seasons. I can't see this major angle playing out any time soon, unfortunately. I'm all ready for it at least. It's the shot of adrenaline and change-of-pace Dexter needs.
Because - while it was nice to see Dexter involved with the main investigation - other aspects of "Sin of Omission" were a major snooze. I'm sorry, but does anyone care to see Quinn drunk again? What happened to last week's apology and that sweet, sober exchange in Deb's office? It's like it never happened.
And does anyone care about Batista protecting his sister? Or LaGuerta protecting who we have to assume is the Deputy Chief? I know Michael C. Hall can't be in every scene, but the show comes to a stand still when it dedicates any time at all to side characters that aren't at least related to Dexter.
As far as I can tell, too, there's no such thing as Elliott Search Engine. I mean, Google is "so five minutes ago," intern guy?!? Pretty sure Google is only just beginning to take over the world (it launched Google Music this week). That was just a very strange, extraneous mention, wasn't it?
Overall? Definitely a step in the intriguing direction this week. Dexter used to bible to manipulate Travis, not to take a boring look inside of himself. I appreciated that. Let's do away with the light and the dark and the religion and the psychobabble. Of course Dexter has some light inside of him, look at how he cares about Harrison and, of course, how he doesn't just kill innocent people. I'm not sure why he's still questioning that so many seasons later.
I just want to see him set his sights on a target and for obstacles to arise that make that target difficult and dangerous to strap down. Teaming up with Travis and having Gellar make eye contact with Dexter? I think we've arrived at that fun point.
(P.S. I am aware of the popular theory that Gellar is merely a figment of Travis' imagination, and I'm aware that this episode played into it big time (having Gellar stop to look down at Travis and Dexter above the church; the mere way Travis talked about how he can't be controlled)... but this would be such an insulting, idiotic storyline to actually follow through on - the lowest form of storytelling possible, to dupe the audience via scenes/characters that don't actually exist - that I refuse to give it any credence until we actually learn whether it's valid.
PLEASE, Dexter writers, do not tell me you're this desperate for supposed shock value.)
Matt Richenthal is the Editor in Chief of TV Fanatic. Follow him on Twitter and on Google+.