Family Guy went Amish this week, as the Griffins stumbled into unfamiliar territory after Peter's attempts to ride a roller coaster.
When Peter discovered that he's far too fat to enjoy these rides, he decided to go on a diet with the help of Quagmire and Joe. This plotline could have been a hilarious episode all on its own. The vicious, sentient pie that Peter tried to resist was hilarious.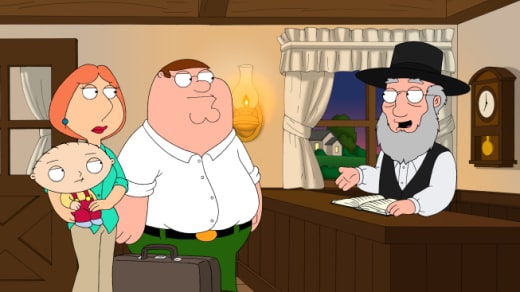 Although Peter didn't lose any weight, he squeezed into a corset and conned his way into the "Holocaust.'" Feel free to weigh in about this week's most offensive joke, readers. Is it ever okay to joke about the Holocaust? Did the show take it too far?
The bulk of "Amish Guy" was based around the relationship between the Griffins and the Amish community. It was fun to see Meg take center stage, as she does so rarely, getting a Romeo and Julie storyline. It was also nice to see Meg get support from Lois and Peter instead of being relegated to her normal punching bag status. 
Unfortunately for smitten Meg, Peter's actions got the group kicked out and ignited a war with the "Outsiders" and the Amish. The Amish fared surprisingly well, considering that Peter and Co. were decked out in full army gear. 
One of the best gags of the episode was Eli's iPhone comment about "Amish Farms." When that giant red Google pin came down, I actually LOL-ed. It was such a clever way of highlighting Google and Apple's pervasive influence.
What did you think about tonight's episode? Did Family Guy represent the Amish properly? Tell us in the comments and browse this week's Family Guy quotes!