A major milestone is coming up on the Upper East Side ... and there's a royal wedding too.
The Gossip Girl cast and crew celebrated the completion of the show's 100th episode, which airs January 30, at a soiree in New York this weekend. There, we learned some interesting tidbits about this landmark episode - one that will not only feature Blair's wedding, but plenty of surprises and rewards for faithful viewers.
Let's get right down to it, shall we? According to the producers and cast ...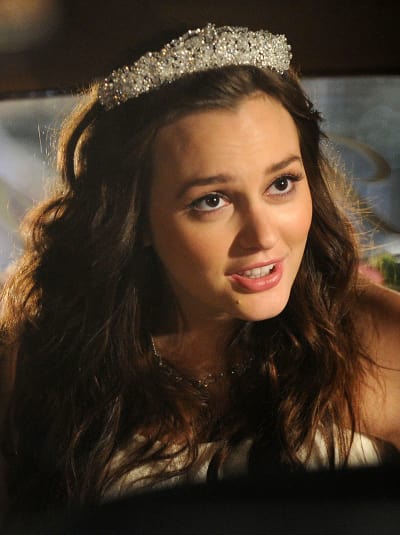 This is the biggest episode yet: "I think it's our biggest episode since the pilot," says EP Joshua Safran. "If you're a fan of the show and you've been watching from the beginning, you're going to feel rewarded."
"But I also feel like if you're tuning in after a long time, I think you may feel like you've missed a lot, but we really try to hit on everything that's happened since [very early on]. I'm very, very proud of it."
The title: The title is "G.G."' as in the movie Gigi, says Safran.
More costumes? Blake Lively told reporters that the cast just finished filming a big dance sequence in which "we were all dressed as people who are not ourselves." Make of that what you will.
Chair fans rejoice? Ed Westwick didn't offer specifics, but said this: "It's difficult for me to speculate as to the opinions of fans ... but I don't think they're going to be disappointed, for sure."
Dair fans rejoice? Penn Badgley said that on wedding day, "Dan has a role to play that is not conventional" ... and that once viewers find out what it is, "There will be a lot of gasping," says Penn.
Happily ever after? Blair running into the street could be just a dream, however ... "A wedding will take place in the episode," EP Stephanie Savage says. "But I didn't say how much of the wedding."
Father of the bride: John Shea, who plays Blair's dad, will he there to walk her down the aisle. He says of that magical scene, "When you see her [in the wedding dress], it sort of stops your breath. And then as we approach the altar, there's the whole cast, everybody who's been there for all these five years."
The bride speaks: Leighton Meester herself weighed in on the episode and her character's various love interests: "Blair's engaged to a prince, so what could be better than that? But then you realize that the fairytale isn't 100-percent perfect. Her and Chuck have had ups and downs, and as much as everyone loves them together I think that them having time apart has actually helped Blair grow - and weirdly helped me grow, too. The one relationship I'd love to see play out is Blair and Dan - just selfishly, honestly, because I love working with Penn. So we'll see!"
Bring the tissues: Mark Piznarski, who also directed the pilot and No. 100, admitted there were some moments in the episode that "brought tears to my eyes ... to see our kids - I do still refer to them as 'my kids' - going through something [difficult], that, as a parent, is a very emotional thing. So this episode is terrific."
There will probably be a Season Six. "We've had no one saying to us, 'Wrap it up. This is the last season.' So we're not [treating the season finale] as such," said Gossip Girl shot-caller Joshua Safran.
"We see [the finale] as a continuing, developing story. At the same time, we plan to show the characters' evolution and where we're going to go with all the twists and turns. There are no plans to wrap it up."
Well? What do you think of these Gossip Girl spoilers? Comment below!
Steve Marsi is the Managing Editor of TV Fanatic. Follow him on Google+ or email him here.