Now that's more like it.
After such a mediocre installment last week, "All The Pretty Sources" met all the criteria for a solid Gossip Girl episode. It focused on the core cast members, advanced the storyline, and was entertaining as heck.
Sounds like a simple formula, but the show has been known to deviate from it as we know. Tonight our favorite characters were in rare form, and even the supporting players brought something to the table.
The episode also managed to tie all the storylines together in a way that flowed nicely and didn't feel totally forced, like throwing everyone together at a party out of the blue ... which did sort of happen.
B's shower was where the tension boiled over, but it did so (relatively) believably and scandalously for all. The big winners? Chuck, Nate, Nlair and Serena. The losers? Louis, Ivy, Diana and Gossip Girl.
As for Dan, that's a tough call. Maybe he won't even remember what happened ...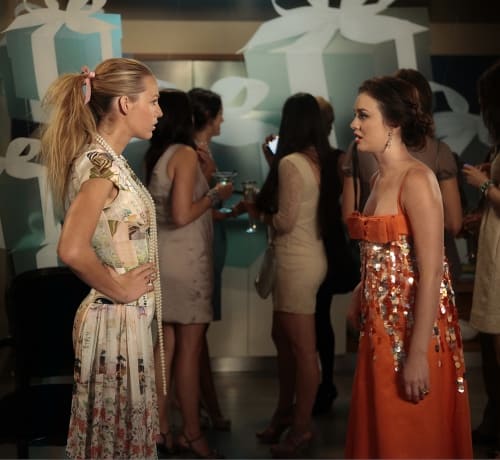 This was a big night for the men of Blair Waldorf. To say Louis did not help his standing is an understatement. In the last three episodes, he's taken two steps back, and last week he did not even appear.
Logistical issues aside - I refuse to believe Louis would know how to make that list of sources live on the Spectator (TV Fanatic CEO Eric Hochberger could, but not me) - one could foresee his meddling.
He's totally self-destructing, and it's amateur hour for Louis when it comes to his scheming. Desperate and jealous, he simply wings it without thinking of the consequences ... or how not to get busted.
How ironic that the one true source of evil in this hour was the man who thinks he's above it all. Even Diana didn't sell out Nate's friends, and Ivy's a huge liar, but just in over her head at this point.
Fortunately, the petulant Prince was exposed and Blair saw him for the ineffective sleaze he really is, while at the same time, the two men she disallowed from the shower stepped up to the plate. Mostly.
Any episode that gives Chuck Bass free rein to be a dick while not having the audience hate him is pure gold. That's what happened this evening, thanks to his budding bromance with Dan. I heart Duck.
Chair and Dair lovers are often divided into respective camps, and the ending of "All the Pretty Sources" will surely prompt some more in-fighting, but Chuck was right. They were both outsiders tonight.
From Chuck's hilarious means of passing the time, to his efforts to get Dan some ass (not make one of out himself) and the way he took care of his drunken comrade at the end, the Basshole was great.
Who knows if they'll continue to have these types of adventures together, but if they do, Duck may have a real shot at winning TV Fanatic's dynamic duo poll. As for their romantic overtures toward B?
After dragging him out of the bridal shower with everyone they knew and a bunch of people they didn't (Dan asking who the peeps in the elevator were was classic), Chuck knew Dan's true intentions.
They're both in love with Blair and they both lost. For now.
It's not over yet, at least for Chuck. Dan's feelings for Blair remain strong, and their connection is deep. But when B realized Chuck had been "good" this whole time, the look on her face said it all.
If Gossip Girl is trying to plant seeds of doubt about B going through with the wedding on the 100th episode spectacular in January, they may be doing too good a job. Is there any chance she will?
We know the wedding will take place, but how much of it is unclear. There's also the matter of the baby, which was a total afterthought tonight, save for Beatrice leaking the paternity test scandal.
It's not looking good for the Prince, that's for sure, and in the ongoing, three-person battle for Blair's affections, the way things are going right now, a redeemed Chuck may have the inside track.
The reason Louis is on the outs, again, is the list of Gossip Girl sources getting out. Somehow, Nate got Jonathan to hack them off GG's site in like two minutes (he and Diana didn't think of that earlier)?
Eh, whatever. The point is that Nate and Serena, for all their flaws, were not about to drop the bomb, but suddenly computer-savvy Louis was ALL over it. He paid a price, as did Diana in a different way.
Whatever the Grandfather's motives for remaking Nate, installing him as the head of a big website does accomplish that to some degree, even if he's blissfully unaware of how those strings were pulled.
The fact that he never sent a tip to Gossip Girl speaks to his character. We rip on the guy for his lack of brains, and that will certainly come into play again, but he came off smelling like roses here.
Can the Spectator be the new Gossip Girl? Will Nate establish a legitimate career or implode after 2-3 weeks? Will he realize he's a pawn? So many questions. It's hard not to root for the guy, though.
It was a lot of fun to see him doing something for a change, and working with Serena in the process. Their relationship has always been central to the show, even if S and B interact so much more.
Serena and Blair reminiscing over blasts from the past (literally!) was pretty funny, and you had to laugh at S' subterfuge surrounding the shower, playing it off as if it were a casual, ordinary affair.
In the end, S was a terrific maid of honor and gave the bride-to-be the night of her dreams, Louis be damned. It was so sweet, though I bet we haven't seen the last of Diana trying to stir things up.
Why Diana caved to the pressure is uncertain, but at least we know there's a joint secret that could apparently doom both herself and the Grandfather. Speaking of secrets ... Ivy. Oh, sweet Ivy.
It took eight episodes, but her storyline finally picked up as Max continued to stalk her and force her into one lie after another. Then after Max busted her, again, he went completely off the rails.
The girl lies way too easily. It's like she's an actress or something. Even the pros can only impersonate a real person and infiltrate a family for so long, however, and the walls are closing in on her.
What Max intends to do with Serena, who knows, but at least he had the gall to blackmail Ivy for some real money. Fifty grand on the UES is like 10 in Oregon. Girl's got a trust fund. Think BIG!
Diana and Ivy have combined for way too much screen time this fall, but they certainly weren't boring tonight. I'm legitimately intrigued about what will happen with both, which is officially a first.
This was a strong installment overall, with good laughs and better drama. With two more weeks to go before the holiday hiatus, it'll be interesting to see where they leave all this unfinished business.

I turn it over to you. What did you think of tonight's Gossip Girl? Leave a comment and tell us below, and don't forget to take a look at next week's promo and vote in our poll ...
Who is the best fit for Blair on Gossip Girl?
Steve Marsi is the Managing Editor of TV Fanatic. Follow him on Google+ or email him here.