Welcome to the 289th Grey's Anatomy Caption Contest here at TV Fanatic, where readers submit their best caption(s) for a photo from the ABC drama! Ready to see who won this time?
Your Caption Contest winner is Beck. Congratulations and well done!
Honorable mentions go out to uklass, alexandra and TraceyP. The winning caption appears below the photo. Thanks to everyone for playing and best of luck in next week's edition!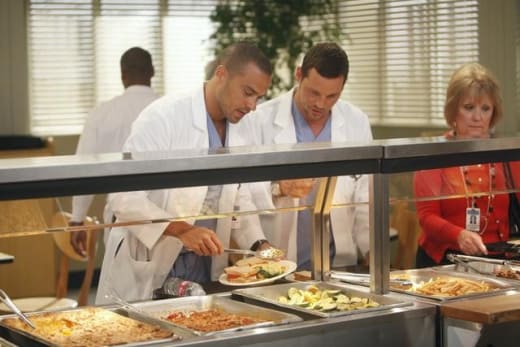 Avery: I mean, I love you bro, but it's still a little weird that we've both slept with Lexie.
Karev: Nothing strange there for me. Besides, it's common knowledge that there's less than two degrees of sexual separation between all the staff here anyway.
Avery: Except for April.
Karev: Yeah, except for April.
Both: [snicker]
Steve Marsi is the Managing Editor of TV Fanatic. Follow him on Google+ or email him here.