Will the Grey's Anatomy cast be back in full next year for a ninth season?
That's been the burning question for months now, and truthfully, it's still one without a definitive answer. But according to reports, network executives are already in the process of trying to make this happen.
Whether they're successful remains to be seen, but ABC wants them all back next season, according to TV Line. The network has begun preliminary talks with the Grey's Anatomy cast to extend their contracts.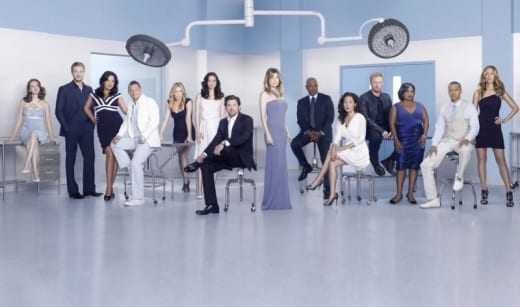 The talks include Ellen Pompeo and Patrick Dempsey, who have been the most vocal about the possibility of exiting Seattle Grace once their original deals with the show expire at the end of Season 8 this May.
It's possible that Pompeo and Dempsey will agree to return for a full season or an abbreviated number of episodes, allowing them more personal and professional freedom, while still keeping them in the cast.
All speculation for now, but it'll be interesting to keep our eyes on.
Steve Marsi is the Managing Editor of TV Fanatic. Follow him on Google+ or email him here.