Hart of Dixie Exclusive: Cress Williams Chooses a Team, Previews Lavon/Lemon Flashback
Matt Richenthal at .
Let's get one thing out of the way: Lavon Hayes is on Team Wade. Probably. Maybe. That would make sense due to his friendship with this love interest of Zoe, Cress Williams told me last week.
However, the Hart of Dixie star then thought about it more and reasoned: "George would free up Lemon, so maybe Lavon would be on that team instead. Sorry, Wade."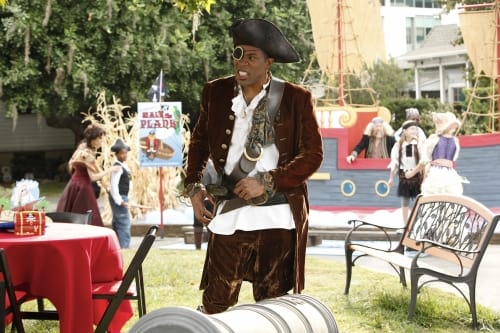 Ah, yes, Lavon and Lemon. The former has made it clear that he's still in love with the latter, but I needed Williams to sell me on this pairing. What does the charismatic, personable mayor see in the close-minded southern belle?
"You'll see a flashabck to how the relationship began," Williams said. "Lavon came along at a time when Lemon was especially vulnerable and he saw a side that no one else sees, that informs the way she is now. He might have a bit of a savior complex... but when they're together, they can be their unique and complete selves in a way they can't be with anyone else."
Will they ever be together again? The actor wouldn't say. Will anyone else discover their former romance?
"Eventually, the secret will come out, yes," Williams teased.
Coming off a mesmerizing performance on the final season of Friday Night Lights, Williams said he chose the role of Lavon Hayes because he wanted to play someone who is "likable." He also appreciated that Hart of Dixie dabbled in both comedy and drama, a mix epitomized by his character's fun-loving attitude... and deep affection for the woman he cannot have.
There may be even more to Lavon, as well.
"He made a reference in the pilot about why he left the NFL to come home. He mentioned he was 'lost," Williams said. "What did that mean? I hope we get to explore his past more."
As for the future? Viewers will witness Bluebell's unique take on Thanksgiving tonight. They can then look forward to a Christmas episode that "has very little to do with Christmas," Williams previews, adding that a beauty pageant will come into play next week. In 2012, we can expect a different kind of Valentine's Day celebration, as Bluebell continues to stand proud against the status quo.
"Our town is sort of like The Twilight Zone," Williams laughed.
Matt Richenthal is the Editor in Chief of TV Fanatic. Follow him on Twitter and on Google+.