Hell on Wheels Review: The Creepy Mr. Swede

Sean McKenna at .
Last week's Hell on Wheels premiere, which garnered AMC's second biggest debut with 4.4 million viewers, set up numerous storylines and characters, from Cullen Bohannon's thirst for revenge... to Durant's greedy entrepreneurial endeavors... to Lily Bell's escape from the Cheyenne... to Ferguson's realization that not much has changed since the Emancipation Proclamation.
It was a lot to take in and at times moved relatively slow.
And as much as you can toss out the Deadwood comparisons and complain of the cliches, Hell On Wheels definitely looks to be taking on the ambitious task of telling a large story that takes on the gritty and grimy melting pot centered around the construction of the transcontinental railroad.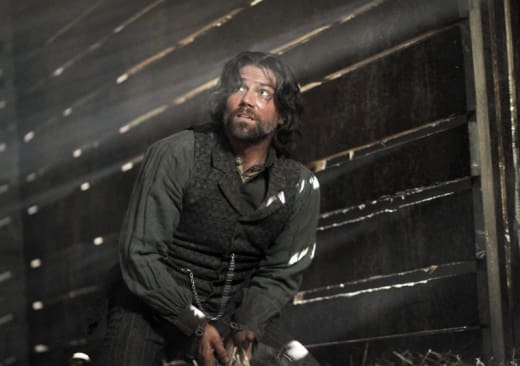 Thankfully, "Immoral Mathematics" managed to focus itself on one central storyline and scatter a few smaller ones throughout. It chugged along at a much quicker pace and kept me interested for pretty much the entire episode.
Most of that attentiveness was due to the emphasis on Bohannon dealing with the repercussions of Daniel Johnson's death. I'm sold on Anson Mount as the vengeful gunslinger and, frankly, the more time spent on the "cowboy" hero the better. He's relatively soft spoken, doesn't take crap from anyone and carries himself in a way that inspires you to root for his form of justice.
And now Bohannon has the perfect antagonist in The Swede.
Forget Durant as the show's villain. He can keep his cartoonish representation of the rich trying to get richer because The Swede garners a creepiness and dangerous factor wrapped behind his calm demeanor. Sure, he works for Durant, but The Swede is the one who appears willing to get his hands dirty and will probably make life difficult for Bohannon. He just gives me the chills.
Their interactions with each other were perfectly cold and distant. Each had their own agenda and it's obvious that The Swede wasn't happy about Bohannon escaping or running to Durant for protection.
It's great that Bohannon is intelligent and not just a shoot-at-everything kind of guy. From escaping the train car to appealing to Durant's lust for power and money, Bohannon showed that he has a lot of cards up his sleeve. Now that he's the foreman, it'll be interesting to see just what he plans to do, besides kill that mysterious sergeant that Johnson spoke of. I also loved that he didn't leave his hat behind when freeing himself, either. You can't be bad ass without the hat.
While I could have cared less for Lily Bell running through the woods away from the Cheyenne, it did give us more of Joseph Black Moon. His background and journey should be engrossing because of his Native American heritage and conversion to God and Christianity. He only appeared for a few moments, but I look forward to watching him in the future struggle through the world predominantly white man's universe.
Similarly, characters like Ferguson and the McGinnes brothers connected themselves to the plot without overtaking scenes or completely departing from the central focus. Ferguson strayed from his angry, pissed at the world demeanor and calmed down. He also helped Bohannon for a second time, so I'm sure Bohannon will have to repay the favor at some point. The McGinnes siblings were forced to deal with the arm-twisting Swede as he demanded they pay him money for protection and to remain in their spot.
What happened in Boston that they don't want to speak of? There's more to these guy's than happy go lucky entertainers.
It's obvious that the bleak and dirty setting proves that Hell On Wheels refuses to over-glamorize the West. Even the amount of violence and bloody moments, such as sewing up an open wound, means that nothing is going to be held back when telling the diverse stories all connected to the railroad. One thing is for sure, this show is picking up steam - and as long as it doesn't spread itself too thin, it should prove to be another drama-filled hit for AMC.
Sean McKenna was a TV Fanatic Staff Writer. He retired in May of 2017. Follow him on Twitter.