New Girl Review: Your Mouth Says One Thing, Your Feet Another
Kris Hekmi at .
Much better, New Girl, much better.
In "Cece Crashes" a tempered Jess appears, making everything as charming and funny as they ought to be. The addition of Cece, a character we've missed the past few episodes, also provided some juicy tension.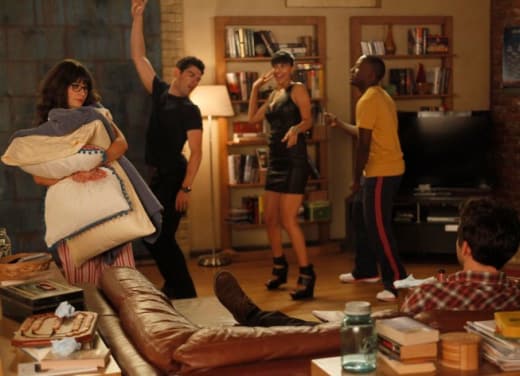 The Good. So much goodness, where to begin? Most of the funny in this episode came from things I can't even quote. From Schmidt listing all the things he likes about India - including mango chutney as well as other kinds of chutney - to Jess and Cece's mini-tussle, it was a good hour of comedy from start to finish. And also a few meaty plot points, brought to you by Cece.
Cece is like one of those tornadoes that come and disrupts everything. After her visit, you have no idea what goes where. But you know, a sexy tornado.
For example, Schmidt and Winston went absolutely crazy at the presence of a beautiful woman not shy to sunbathe in her undies. Between the two, Schmidt seemed to really want this more. It's easy to root for him when he remains likable even as he acts a bit douchey. Maybe its his innocent face and washboard abs. And maybe also because he had a touching back-story as the fat kid. Whatever the reason, I was completely thrilled at the hand holding that took place between him and Cece. A sweet and sensitive Schmidt five episodes into the season? That's what a tornado does for you.
And then Cece made the observation about Nick's body language, and the state of his feet always pointing at Jess. According to her, this meant he's interested. Jess managed to brush this off until a trip to the store with Nick. After a little test in which Cece seemed correct, she officially panicked and went weird Jess-style. But not over-the-top weird like last week. Her reaction was exaggerated, yes, but she was able to articulate her reasons for being so.
In the end, that made all the difference between intolerable Jess, and well-liked Jess.
P.S. I think Nick likes her, too, but let's face it, this is TV. Things will move slow, if at all.
Just like that, we've got romance(s) brewing in the house. Since everybody loves some good romantic tension, I predict we'll get some good mileage from these story lines.
The Bad. I'm empty. Absolutely nothing new to add in this episode except for Winston being the weak link in supporting characters. 
Stray Observations
At one point after calling Cece a bitch, Zooey laughed, and the laugh was EXACTLY like her sister Emily Deschanel's laugh. So adorbs!
I'm loving the flashbacks to when they were kids. The young girl playing a young Jess makes me smile every time.
Every week we seem to get interesting tidbits about the characters. This time, it's that Cece is of Indian descent. I've wiki-ed Hannah Simone and can't get confirmation on whether she shares the heritage. Anybody know anything?
This episode and the last one, were supposed to air before the Wedding episode. I can see now why they went with the broadcast schedule they had instead.
Poor Winston still doesn't have a job. Any guesses on what they'll give him as employment? I'm thinking something in schools, so perhaps we can see more into Jess' work-life.
Great improvement over last week. And if you can't get enough, head on over to our quotes page.