Another week, another captivating Private Practice.
"Don't Stop 'Till You Get Enough" was a strong episode, but I simply can't understand how and why this season's viewership continues to decline. What's up with that? Come on, people!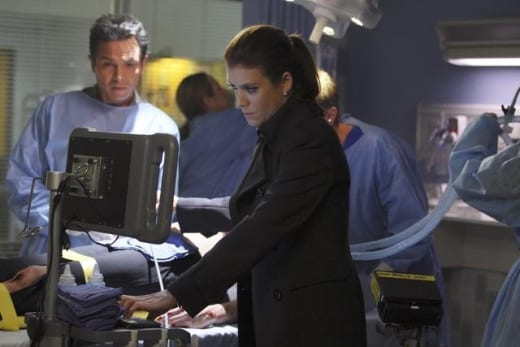 Amelia's addiction continued to spiral out of control with the help of her newest fling, Ryan. From writing her own prescriptions to ditching work, it's obvious that Amelia hasn't quite hit rock bottom just yet... but she is undoubtedly getting pretty darn close. I don't like seeing her this way, but her storyline is far from boring and I think that Caterina Scorsone is doing a remarkable job.
Poor Sheldon! I liked watching him out of his element, worrying about Amelia like crazy. I only wish that she knew how concerned he was. Then again, I'm not sure if that would even matter, as she continued to make the wrong decisions. I was shocked when she snidely made remarks to both Cooper and Addison, but she really is just not herself right now. Amelia needs help, quickly!
On another note, Charlotte and Amelia's scene was incredibly intense. Like Sheldon, Charlotte has been trying for weeks to be the friend that Amelia needs.
At least Charlotte made some headway with Erica and Mason. I was very happy to see her come around and understood why Charlotte did what she did to protect Cooper. With the help of Wii Tennis, Charlotte scored some brownie points with Mason, as Cooper and she seemed genuinely happy. Moreover, Mason (Mini Cooper!) is growing on me. 
Elsewhere: Sam and Jake butted heads when they both fought over donating a patient's organs versus saving the patient's healthy unborn baby's life. As always, Private Practice has a way of including heartbreaking storylines where there is never a wrong or right answer. Ultimately, the doctors all agreed that the decision wasn't theirs to be made. Instead, it was up to the father of the child.
After the father made his decision, both Sam and Jake walked away with Addison looking on at the both of them. I honestly wanted her to chase after Jake. Their chemistry was once again undeniable during her appointment with him, and I can't help but to root for these two now.
I actually appreciated not hearing Pete and Violet's constant bickering and am glad that they seem to both actually be trying to mend their relationship. Can we say: FINALLY?!? Pete definitely deserved some points for defending Violet to Sheldon. Meanwhile, I liked that Violet worked hard to show Sheldon she would do whatever it took to get her license back, regardless of his petty and vengeful tactics.
Well, it's week three of the Violet Annoyance Scale, and I'm giving this week's episode a 1 on the VAS. The only issue I had with Violet was when the Seaside Wellness doctors were discussing Amelia's situation, and she started off with a sentence such as: "Until she wants our help..." Sheldon furiously stopped her mid-sentence and said Amelia wasn't in any position to ask for help and it didn't mean that she didn't need it.
I couldn't remember the last time Violet didn't want to cross a line, and I certainly wanted to know why it had to be now – when one of their own needed them more than ever. By the way, do you think that it's safe to say that Sheldon probably supports the VAS? After all, he did admit that he was annoyed at how Violet micromanaged his overseeing of her patients while she was suspended.
Overall, "Don't Stop 'Till You get Enough" was a solid installment that will lead us up to next week's intense Private Practice two-hour special. To say the least, I'm stoked. How about you?