It's time to dry those eyes, put away the tissues and discuss last night's absolutely amazing Private Practice two-hour special.
Hands down, Shonda Rhimes and company (and especially Caterina Scorsone) did an extraordinary job of illustrating the riveting and tragic story of an addict. This installment will go down in Private Practice history and was entirely up to par to Charlotte's rape storyline and when crazy Katie attacked Violet.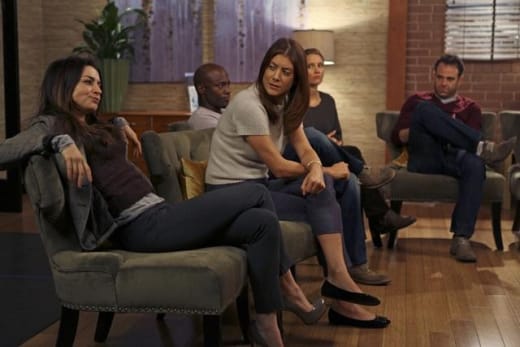 In "Who We Are," an intervention was staged for Amelia after she went missing for 12 days. As expected, she felt ambushed and threatened, claiming that she had her fun and was now sober and ready to get back to work. As we soon found out, that was far from the truth.
From Pete and Violet's marital issues to Charlotte's rape, no one was safe from Amelia's relentless attacks. In fact, it might be safe to say that Amelia was certainly the harshest to Addison about her abortion and desire to have a baby. I also felt for Sheldon when Amelia told him that she would never love him back. Actually, I felt for everyone.
Amelia said some of the most terrible things I've ever heard on this show, and I was taken aback every time she opened her mouth to criticize the ones who cared about her the most.
I definitely appreciated the flashbacks from that unfortunate day when both Amelia and Derek's father was killed. We had heard about this pivotal moment several times on both Grey's Anatomy and Private Practice. Seeing it, though, was incredibly heartbreaking and I needed my tissues more than ever during these scenes.
While everyone was trying to get through to Amelia, there was also some disagreement among the doctors on what to do when Amelia asked for more Oxycodone. While Sam believed that Amelia should simply take responsibility for her actions and she had a choice to stop, Jake had a difference of opinion.
Jake's scenes were touching as it became clear why he strongly believed that Amelia's addiction was a disease and should be treated as such. Furthermore, it was kind of nice getting to know more about his back story and to hear that he was genuinely happy in his current job and with his newfound friends.
By the end of the hour, Ryan showed up at the office and took Amelia home. The other doctors were told to only respond to Amelia if and only when she was ready to get cleaned. I was only slightly surprised that Ryan overdosed and died. However, I was thankful that Amelia finally decided that she needed assistance and wanted Addie by her side.
While the first hour showcased no actual patients (if you don't count Amelia), "The Breaking Point" intertwined Amelia's rehab journey with Cooper's medical case, a scare for Addison, and what appears to be a separation for Pete and Violet.
First off, it was very interesting to see Amelia's progression throughout her 50-day program at rehab. I am thoroughly glad that she made a friend, who truly helped her find her way to understanding that she wasn't to blame for Ryan's death. Furthermore, the teenager constantly reminded her to let her friends in.
I've said it before and I'll say it again. I really wished that Derek had shown up for the group therapy. It would have been the perfect opportunity for a crossover. Then again, this thought was quickly long gone once Amelia began her apologies and asked for forgiveness. Her words were meaningful and her intentions were obvious. She hoped for forgiveness and the ability to forgive herself.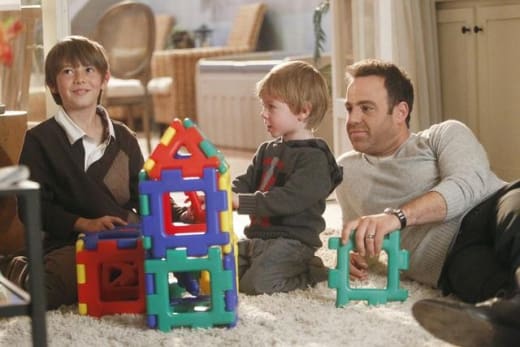 On another note, I liked that Cooper and Charlotte were doing just fine with the newest additions to their family. Aside from the mishap with Cooper missing Mason's first school play, I loved that Cooper was able to explain to Mason the importance of his job in working with other children and how he was still there for his patient.
Meanwhile, my disdain for Sam continued to grow. When Addie collapsed and was rushed to the hospital, I couldn't understand why Sam wasn't by her side. I'm not sure if Sam was really even listening or not at the therapy session when Addison said exactly what we have been thinking for months now: How can their relationship work if he doesn't want a baby and it's all she's ever wanted?
He kept insisting that he loved her and would support her, but her wanting a baby was not his problem. It didn't make sense to me before, and I'm still clueless as to how they will be able to make this work. Hasn't Sam heard that sometimes love just isn't enough?
Furthermore, I'm still rooting for Team Jake because he's been perfectly incredible with Addison. He always knows the right things to say, and I can't help but to hope they will eventually get together.
Elsewhere: Pete admitted to Sam that he wasn't quite sure if he wanted to spend the rest of his life married to Violet. He also mentioned that he didn't know if he had it in him to leave her. Luckily for him, Violet knew exactly what was up and made the decision to leave him because he couldn't do it.
As you know, I am not the biggest Violet fan, but I thought that she acted very responsibly when she gave Pete the opportunity to discuss the status of their marriage on several occasions. I also thought that it was a huge step for her to move out, whether or not they end up back together or not. Pete needs to man up, and at least say something. 
That leads us up to the Violet Annoyance Scale. With Amelia front and center, I nearly forgot to keep track of Violet's tolerability.  However, what's an episode without a VAS rating? I'm giving the two-hour special a 2.5 rating.
I laughed when she admitted to meddling into Sam and Addie's issues and projected her own marriage into their love life. I also thought that it was a little ridiculous when she said she wasn't in favor of group confrontations when they were already all there trying to help Amelia. She certainly deserves some credit, though, for how she handled her failing marriage to Pete.
The special ended flawlessly at Addie's during a Thanksgiving celebration. All were in attendance, including Amelia, who made it through the rehab program. In the last minute, Addie was seen with a pregnancy test. I'm not counting any eggs until they hatch (pun intended), but I am more wistful than ever for Addie. She deserves to be happy, regardless of whether or not she is with Sam... or Jake.
What did you think of this powerful installment? Are Pete and Violet really over? Do you think that Addie could finally be pregnant?