Shawn and Gus found themselves undercover at a mental institution in "Shawn Interrupted," and the shenanigans that ensued made this another memorable installment for Psych.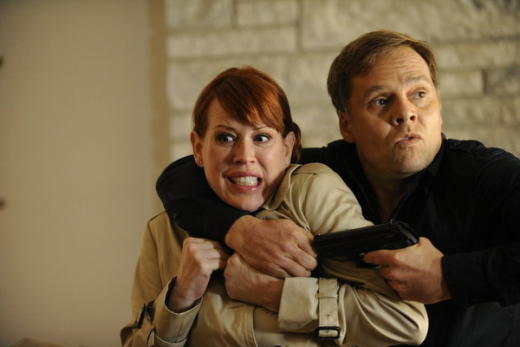 The interesting thing about this episode is that it was touted as Molly Ringwald's big guest star moment with no mention of Brad Dourif, and yet Dourif made more appearances than Ringwald. I don't know how that made you feel, but it felt like this was one of those episodes where there were too many guest stars in the mix.
I love when they can get guest stars, of course, and I suppose it means something pretty significant when you can get someone so iconic to play a background role, but this week I was ever so slightly disappointed at Ringwald's under-use. Besides this gripe, the episode content itself allowed Psych to serve up another solid outing.
It didn't surprise me a bit to find that Carlton had thrown a congratulatory party for himself. In fact, it was rather genius. No better way to assert your superiority in crime solving and assure praise than to present it in the form of a harmless celebratory gathering. I felt poorly for Carlton that the victory was short-lived.
That said, Shawn and Gus undercover in a mental institution made for fun television, and by the end of the episode, it was very clear that one of them truly did belong in the mental institution: Gus.
Gus, buddy, the crazy chicks have got to go. Come on, Son!
But you had to love how Shawn was diagnosed with "narcissistic personality disorder." Are there medications for that? Perhaps a treatment? Like an effective injury to his pride? One thing's for sure: I would prefer we left the disorder untreated! Let's be honest, Shawn wouldn't be any fun without it!
It was really sweet how concerned Juliet was about him being there, though. She doesn't even try to hide her protectiveness of him anymore, which adds to the authenticity of their relationship in a genuine way. The best part is is that everyone is pretty respectful of it. I even think that Henry anticipated Juliet's anxiety, sending Gus in with him. It seemed in that moment of explanation about what was going to be required of Shawn that she was about to say something, which was quickly taken back as Henry revealed that Gus would go with him.
The integration of Shawn, Gus, Henry, Lassiter and Juliet as a team has become so seamless that they almost anticipate each other's needs. I wonder if this won't be something to pay more attention to as we move forward this season, or if its a natural product of the fact they've all been through so much together over the past two seasons?
Either way, I want to see more of it!
In two weeks, Psych returns with a much anticipated episode in which THE William Shatner guest stars! Take it from someone who already screened this episode: It's a must watch!
C. Charles is a TV Fanatic Staff Writer. Follow her on Twitter.