Heroes, hotties and humor: sounds like another week in Santa Barbara for Psych Detective Agency.
The episode may have been called "The Amazing Psych-Man & Tap Man, Issue #2," but this week The Catch and Tap-Man (or should we say Tap Man and The Catch?) stole the show on a comic book-tastic episode of Psych.
Leave it to the cast of this fan favorite to pull off a pretty hilarious and slapstick humor-filled homage to the heroes of comic books past and present without giving in to stupidity or lameness. That's why these guys ROCK! Props to Saladin Patterson for pulling this off.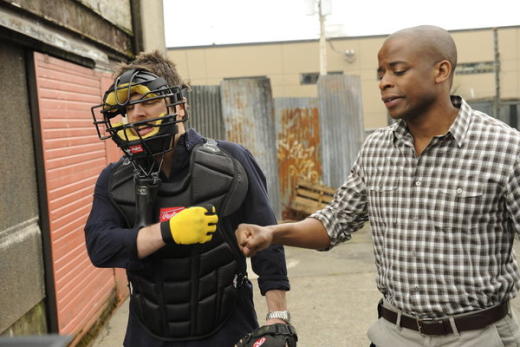 Can we chat about that epic opening? No lyrics, just larger-than-life hero scores. Great call. Plus, we got the second themed opening of the season! And two Gus nicknames in the first 10 minutes!
As far as content goes, loved getting a little bit of jealous Shawn. He doesn't appreciate when differently-abled superheroes edge in on his territory, or his girlfriend's affection, and rightly so.
I thought seeing Shawn and Juliet on a bit of a date was a fun twist. We haven't really seen much of that at all since our favorite couple got together. Not to mention how absolutely gorgeous Maggie looked. Anyone get a bit of a flashback to "A Very Juliet Episode" with the hair and red lipstick? I know I did. Suddenly, I have the urge to go back and watch that one! They are so much fun together.
Also loved how they almost got into a bit of an argument over the whole Mantis thing. Shows you how willing Juliet is to believe in heroes, even when they're ordinary people.
Which brings me to my next point: what did Juliet mean when she said "You have a supernatural psychic gift" to Shawn? Was she playing along? That alone makes me feel like she is truly harboring a full belief in everything Shawn is and pretends to be. I can only imagine what impact that will have on their relationship when it comes out. Props to Gus for taking advantage of the moment a bit. Could he have been any more sarcastic?
Plus, there was that great "I know, you know" moment. Folks on Twitter were quick to point out how that little reference to The Friendly Indians theme song almost satisfied its absence during the special edition opening. Best part is the reference didn't try to beat you over the head to announce itself. It was subtle, but also tied into the truthfulness discussion occurring between Shawn and Juliet.
But before we get to a psychological study of the impact of lying on a healthy romantic relationship, let's direct our attention to the criminally underused Joey McIntyre. Have to admit, I only recently joined the NKOTB band wagon, but having a hottie like Joey to compliment an already hot cast did not go unnoticed. It is at this point where I must also shout out to Miles Fisher, who also guest starred. Too much superhero/uniformed hotness going on this evening - but I am not complaining!
I definitely would have liked to see a lot more of Joey, though. His impression of Shawn could have not been any more hilarious. I kept waiting for someone to correct him, but I suppose it's funnier that no one ever did! The tattoo bit was a riot though... even Juliet hesitated. I have to admit, though, I never saw the dog.
When it comes to Shawn and Gus as The Catch and Tap Man, I'm wondering which persona for Shawn I like better. I actually expected the title to refer to Gus as "Magic Head" in the spirit of the season one episode "Shawn v. Red Phantom," but, alas, this was not the case. Did love them as kickbutt crime fighters without a doubt despite my initial confusion.
The themes just keep coming, and next week we take The Catch to the diamond when baseball takes center stage.
What did you think of this week's episode? Sound off below!
C. Charles is a TV Fanatic Staff Writer. Follow her on Twitter.