Welcome to the latest edition of the Revenge Round Table!
In the following Q&A, panelists Chandel Charles, Christine Orlando, and Leigh Raines break down last Wednesday's "Suspicion" and talk about just how unwelcome the real Emily Thorne has become. As always, reader feedback is encouraged...
-------------------------------------------
Do you think Daniel is too quick to believe Emily?
Chandel: I don't know. I am generally of the mind that Daniel is not sure what's going on, but is starting to figure some things out. I know that Daniel really likes Emily, so I think his belief in her is actually genuine with her.
Christine: No, I think he's fallen for the pretty girl and, since his mother is suspicious, that gives him even more reason to defend Emily.
Leigh: Yes. Daniel is so desperate to get out of the Grayson chokehold that he'll fall for just about anything. Then, he meets Emily, who is comforting, calming, and supportive. Win win.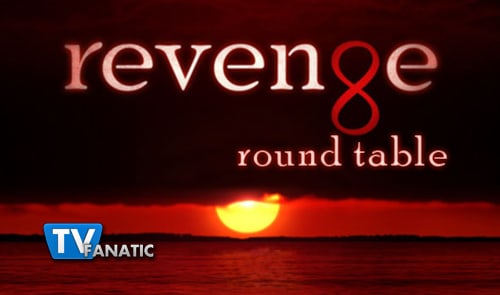 How much does Lydia remember?
Chandel: EVERYTHING!
Christine: I don't think she remembers that Frank had anything to do with her fall. If she did, I think she'd be more wary of both Victoria and Conrad. I think she remembers everything up to that point and I"m sure the rest will come flooding back soon enough. Then we get to see what she does with the information.
Leigh: She remembers 99 percent. Maybe not the parts from right before the fall, but definitely the rest.
Why was Nolan so careless in outing himself to Ashley?
Chandel: Wish I knew how to answer. I think it was mostly that he was keen on making things difficult for Tyler, but I almost felt like it was calculated somehow.
Christine: I don't think he cares what Ashley thinks and he enjoyed backing Tyler into a corner.
Leigh: As Emily mentions in next week's preview, it's because he "fell for a hooker." Nolan's feelings for Tyler are making him careless. He probably thinks that Ashley doesn't post any sort of threat.
After all of these years, how was Victoria so easily duped by a couple of 17-year olds?
Chandel: I am not completely sure that Victoria was really duped at all. I feel like Charlotte nearly blew it with her eagerness to reclaim her keys. Then again, if Victoria really was duped, it's indicative of the fact that she's in an emotionally desperate place and wants to get her claws into anyone she can. It almost felt manipulative when she tried to comfort Charlotte. Props to Charlotte for manipulating right back.
Christine: Victoria is losing Daniel so she wants to believe she has Charlotte. That said, it wouldn't surprise me if Victoria is suspicious and I'm sure it won't be long before she figures it out.
Leigh: I agree with Christine, that Victoria is desperate since losing Daniel. She knows that Charlotte will probably still see Declan, but she wants to believe that she has some control of her life.
Does Ashley really have it in her to be a conman?
Chandel: I think, if the conditions are right, people are capable of just about anything. If she does decide to continue down this road with Victoria, it will likely be because there's some personal advancement in it for her. She may end up turning back once Victoria proposes something she isn't comfortable with, but what that might be, I have no idea.
Christine: It's possible. If money and stature are that important to her then she may be willing to sell out Emily to get it. I can't wait to see how far she's willing to go because you know Victoria will just keep pushing for more.
Leigh: People react differently in different situations. I think she will start out on this path, but something will push her to her limit.
Make a prediction for Faux-Manda.
Chandel: I really have this terrible feeling she might end up violently murdered or something. I can't explain why, as morbid as it sounds.
Christine: It wouldn't surprise me if she ended up dead. Or even in an institution if she tries to out Emily. Emily could make her look crazy and have her put away.  Problem solved.
Leigh: I think Victoria will take care of it. I don't know when, I don't know how, but I'm sure it's gonna make for a hell of an episode.