Terra Nova Review: Don't Go Jumping Waterfalls

Dan Forcella at .
It's amazing what story, conflict and inner turmoil can do for a television series.
While it wasn't without its usual clunky dialogue and regretfully mediocre acting, Terra Nova put forth some of its best work of the season in "Now You See Me."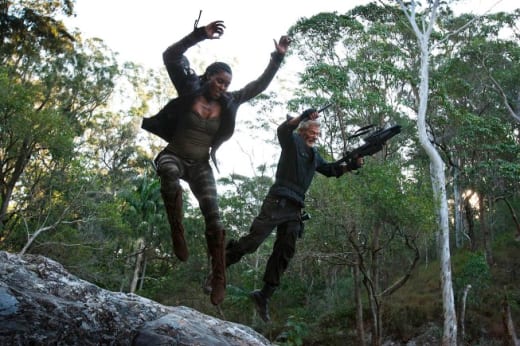 A nice action-adventure piece with Taylor and Mira, as well as the longer-form mystery plot dealing with Skye as the mole, combined for an episode in which most of the hour was held my interest. That's something I haven't really said about anything since the pilot.
Sure, there were the normal issues Terra Nova faces. Commander Taylor and Mira jumping down the waterfall looked about as fake as could be, and a leap from that height would most certainly kill them no matter where they landed, right?  
But at least we got to watch some action-adventure sequences. Gorgeous aerial shots, Taylor belaying down a rock face, running from the slashers, jumping the waterfall and taking out the dinos with flaming spears and arrows made up for more legitimate adventure than the rest of the season combined.
And who wouldn't like to wash all of that tiresome activity down with some grubs? I know Timon and Pumba co-sign that decision by the Commander.
Back in the colony, it was revealed rather quickly that Skye was indeed the mole working for the Sixers. Nobody in Terra Nova figured it out, but we witnessed her betrayal, which at that point was necessary in order to keep our interest on the subject. There's only so long you can drag something like that out before we stop caring altogether.
On one side of the equation, I'm glad that Skye is the mole because she's a character we know well, and it's easy to sympathize with her. On the other, I'm upset that it wasn't someone that is indeed a spy for the sole purpose of being a spy. Can't anyone be bad just to be bad? There always has to be another agenda in order to betray the colony on this show, as we already saw with the little girl in "The Runaway."
Nevertheless, she still hasn't been caught, and it looked like she was going to continue to do her thing in camp in order to save her mother. Someone that both the Shannons and Commander Taylor love so much is a great person to have as the mole. When Jim, Taylor or Josh finds out that she has been helping the Sixers, there will certainly be Hell to pay.
That is, if Taylor is still around to do anything about it. As we were told yet again, Lucas is close to figuring out how to get the portal to go both ways. Who knows what other kinds of advances the kid is making?
"Now You See Me" was not without the Terra Nova problems that have plagued the series. Attempting to surprise the audience with a reveal that we already learned a minute earlier has now happened on multiple occasions. This time it occurred when Skye walked in and saw a woman that was clearly the mother that was foreshadowed earlier in the hour, and then with blatant dramatic music and a fast cutaway after she said "mom," the writers thought we'd be shocked.
But the interesting stories residing in both of the main plots this week was reason enough to say that "Now You See Me" provided Terra Nova with the most promise of a good end to the first - and maybe only season - since the premiere.
What did you all think of the episode? Is there more to like as we head down the back end of the season's run? And how unconvincing has Jason O'Mara been in this role so far? Terra Nova returns with its second-to-last episode in two weeks. Watch the official preview for it HERE.
Dan Forcella is a TV Fanatic Staff Writer. Follow him on Twitter.