The Amazing Race Review: It's Speedo Time!

Luke Dwyer at .
As I watch each season of The Amazing Race, I wonder if the show will ever get stale. There are times when it seems like episode after episode follows the same format:  Clue-Roadblock-Detour-Pit Stop.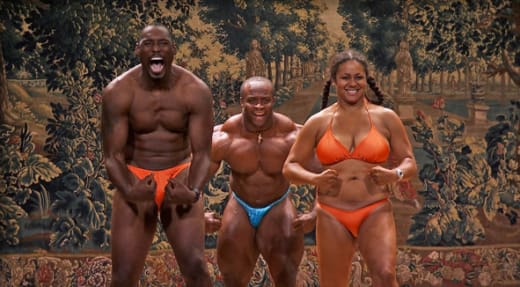 But any worries were thrown out the window with this week's episode, "It's Speedo Time." The leg did a great job of mixing up the types of challenges the teams faced, where they had to go and how they had to get there. We were even treated to what was almost a major mistake.
Initially, I was worried about the leg. The teams started with a reasonably simple Roadblock that was following the format many episodes follow. Any resemblance to a regular episode ended immediately thereafter.
Traveling to Legoland was a great place to visit. Andy said "I was a Lego maniac as a kid, so I was psyched" and I couldn't have agreed more. Legos were a staple of my childhood playtime and I know I was not the only one.
Anyone expecting a Detour at Legoland was wrong, as the teams were given the interesting assignment of putting together a Lego puzzle while riding tea cups. Once again, The Amazing Race has hit my personal jackpot. I love tea cups.
Outside of my personal preferences, the challenge itself was great. Try to put together a puzzle while spinning inconsistently and the puzzle ends up being the clue to their next destination. I love anything that's not a traditional tear open clue. 
The trip to Legoland was followed by a three country excursion from Denmark to Germany to Belgium. They mixed up where and when teams expect to travel. After seeing the clue at the start of the leg, Cindy commented that they were spending another leg in Copenhagen. Nope.
Although the teams ended up leveling because of the train ride, making the teams drive to Hamburg and then take a train to Brussels provided opportunity for teams to get separated. Heck, Cindy tried really hard to do just that by losing her tickets on the second train, but was bailed out by the laissez-faire Germans.
Once in Brussels the five remaining teams are subjected to one of the most absurd challenges we've ever seen on the race. I loved it. They even made the challenge difficult, something I didn't expect. That's what made it even more amazing that Amani and Marcus completed the challenge on their first try.
The biggest surprise of the leg was left for last. Going in to the Pit Stop I guessed that this would be a two-part leg. Despite my premonition, Phil threw me when he said that Amani and Marcus were the winners and I didn't see his next act coming when he handed them their clue. Great stuff.

More from this week:
Why does Marcus always seem to wear orange? Is there some personal meaning for him? It's not the school colors of his alma mater, Bradley, or where he current coaches, a public high school in Alabama. 
Andy and Tommy started spinning their cup faster after they completed the puzzle at Legoland. I would have done the same thing.
I thought Ernie was the best body building poser of everyone. I was surprised he got so much criticism on their first try.  
Even the name of this week's episode was awesome.