This federal lawsuit on The Closer is a pain in the neck. It requires the "Necessary Evil" of Captain Raydor documenting, ensuring and logging every blasted minute of the crimes Brenda's team is investigating. We have Raydor walking behind the unit, wasting time and taking members' minds off their jobs to jot down their movements and then lambasting them with questions that seem irrelevant.
At the very least, Raydor hates the position she's in, feeling like a hall monitor and not thinking she;s adding anything to the federal investigation. We are officially on the path of Raydor's redemption.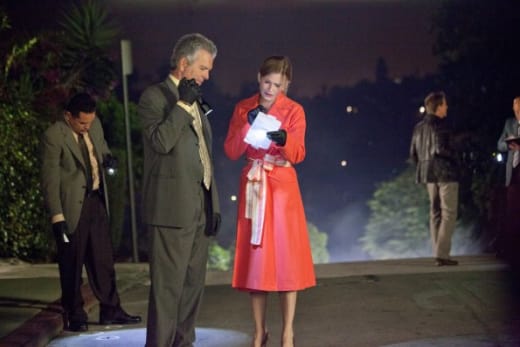 Raydor Drops a Bomb
After she let Pope and Taylor know what she thought of the constant pursuit of Chief Johnson's investigations, she let loose the bombshell: She's been made an offer she cannot refuse. Even after Pope promised her a promotion to commander if she stayed and helped with the lawsuit, she resisted. It was at that moment that I determined either Pope or Taylor is the leak. They are both incredibly shady and have never had the full trust of the viewers.
Mary McDonnell has had some extraordinary performances in her career, but her job in The Closer is very nuanced. She walks a tight line between being loved and loathed, and she pulls it off very well. Even when you want to dislike her, something draws you near.
Raydor had an ace up her sleeve. With no intention of retiring or taking a new job, she was leading the lamb to slaughter. By the end of the episode, opposing counsel Peter Goldman knew all about her little talk with Pope and Taylor. Most likely even before Brenda. This should get very interesting.
Particularly enjoyable was the scene when Brenda took the long way around to thanking Raydor for having her back, and for how hard she is working to make things right. It's very important that their relationship continue to look hostile in order for Raydor to catch her prey.
The Convoluted Case
I had no idea what was going on with the case of the week. So many suspects, some right out of the woodwork. It was all about a bunch of athletic students, a coach and principal. That schools focus so much more on sports rather than education has always been an enigma to me, and this case didn't shed any light on my ability to understand.
It did make me think about how many kids get the shaft from their parents, and how messed up our society has become that helping someone without government "permission" immediately makes you suspect of horrific acts like pedophilia. Where does that leave us and the children who have no one else to protect them? Very sad.
The first of the last 11 episodes didn't have the regular tension or humor found in many of The Closer airings, but it took us one step closer toward the reveal of the leak, what will most likely be the ultimate implosion of Major Crimes as it stands now and Brenda's eventual leave. Call me silly, but that makes me a bit melancholy.
Carissa Pavlica is the managing editor and a staff writer and critic for TV Fanatic. She's a member of the Critic's Choice Association, enjoys mentoring writers, cats, and passionately discussing the nuances of television and film. Follow her on Twitter and email her here at TV Fanatic.