The Vampire Diaries delivered an outstanding midseason finale, an extraordinarily tight, tense episode that kept viewers guessing into each commercial break, building the suspense until a climatic daggering that pitted brother against brother and planted the seeds for a vengeful 2012.
But there was a rather big problem with "Homecoming:" It cheated.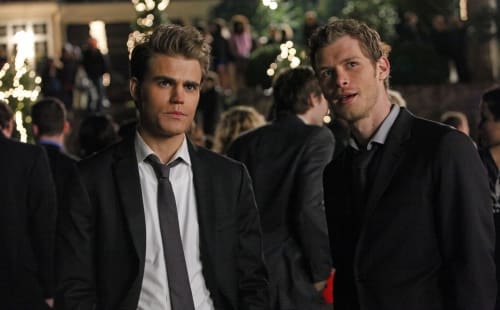 First, there was the use of Katherine, as we've talked about for weeks in our Round Table. She's the epitome of a plot device at this point. Here, after last being seen as a snack for Mikael, she simply showed up and jumped right into Damon's grand plan. How did she get back to Mystic Falls? How did she possess any strength following her loss of blood? How much time has gone by since Mikael approached Damon and Stefan at the bar, and then Katherine returned, and they all formulated this scheme?
The show skipped right past all these key questions and just inserted Katherine where it was most convenient to move the story along.
Second, this was an example of manipulative storytelling. Writers can't purposely keep information from viewers and then fill us in later via flashback. That's cheating, that's a lazy way to pull off a big surprise, especially when you consider the most vital line of dialogue in the episode: when Klaus informed Katherine (posing as Elena) that his Hybrids would take out Damon if he were killed.
Look, we all know there are writers penning these stories. But strong storytelling hides the strings being pulled by these puppet masters. To depict the conversation above only partially, later filling in a vital blank, is a form of lying. We were shown an incomplete scene, based our assumptions on it, and then were told we actually lacked all the pieces of the puzzle. That's just bad writing.
Which irritates me to no end, as you can tell, because I absolutely loved everything else about "Homecoming!" I was on the edge throughout the hour, as one swerve followed another. Rebekah was bonding with Elena... then she was staked. Tyler was an evil, sired Hybrid... then he was actually a caring, complicated boyfriend. Klaus had finally aligned his army... then Mikael proved he could compel them.
I loved every twist and turn and legitimately had no idea where it was going - and I even loved where it went, with Stefan shocking us all by saving Klaus' life; Damon reacting with rage; Elena comforting him, actually seeming okay for once with the idea of letting Stefan go (!!!!!); and an emphasized focus on family, via the layered Salvatore brother relationship and the fact that, as his core, Klaus just wanted his back.
Due to Katherine and the misleading way the plots came together, though, I just didn't like how we arrived at those places.
Other highlights:
How can Caroline even make the term "evil blood slut?" sound adorable?
Remind me never to invite Damon to a party. I'm scared of how he'd RSVP.
The Mikael vs. Klaus showdown, with the former pulling every Bad Daddy card in the deck and the latter reduced to tears? Beautifully done.
How is it possible that no student would have asked Rebekah to the homecoming dance?!? Didn't all the football players see her cheers, flips and - gulp - splits?!?
When did Tyler start hanging out with Dexter Morgan? That was some fine injecting, kid.
So that's all for 2011, Vampire Diaries fans. We now have a few weeks to debate all the possibilities going forward and for me to move past my issues with this finale. It shouldn't be too difficult, not with such an intriguing, revenge-based conclusion hanging over us.
And you know what they say about revenge, right? It's a dish best served... by hot, blood-thirsty vampires, as teased in this preview for 2012. I can't wait.
Matt Richenthal is the Editor in Chief of TV Fanatic. Follow him on Twitter and on Google+.