No one in the Reagan family was safe this week. Blue Bloods had Jamie "Moonlighting" as a stock trader, Danny chauffeuring an imprisoned mobster and Erin courting an art thief. In the end, none of the Reagan kids had a very good day.
Danny called it. He knew from the start that taking a convicted killer on a joy ride was a risky situation. As he said, the man was planning on spending the rest of his life in prison and had nothing to lose. So why not try a jail break?
What I didn't expect was the massive shootout that followed. How did the Albanians know that they wouldn't shoot the man they were suppose to set free? 
I certainly enjoyed the ride along with Tommy Barone Sr. He's an entertaining guy... for a multiple murderer that is. But he definitely earned those two punches Danny gave him. At least he was man enough to admit it.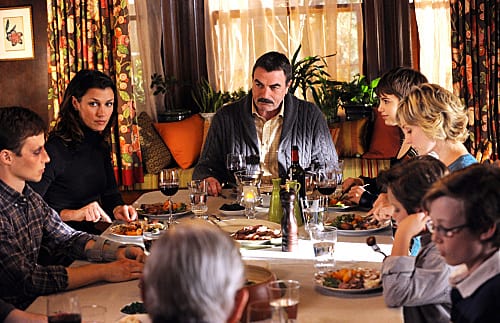 I missed Jackie but Sam was growing on me. Although, I did wonder for a minute if he could be a dirty cop when he didn't take Danny's suspicions about the silver car following them seriously. Then again, there are a lot of silver sedans out there.
I liked the brief scene between Sam and Erin. It would be nice if Erin got a decent love interest. Perhaps a nice guy who won't flee to Europe or be so boring we don't care if he does.
The whole story with Jacob the art thief was just that, boring. I only hope it's over now.
I knew Bianca was going to show up again at some point. I just didn't figure she'd have her tongue down Jamie's throat quite that quickly. Or bring her crazy ex-boyfriend with her. 
Jamie took quite a beating at the end. I guess Harvard Law School didn't prepare him for working undercover with violent crazy people.
The family dinner where everyone joked about how Jamie managed to smuggle out the evidence was both disgusting and funny. Who knew he had such a talent?!? It's more than I needed to know, but I loved the family interaction and how they had such fun sharing the stories with the grandkids. 
I only wish I knew how old Jamie was when he did all of this. As a toddler it's funny but much older and it's just... ewwww. 
Jamie: Mom never did wear those pearl earrings again. | permalink
And who could blame her?
C. Orlando is a TV Fanatic Staff Writer. Follow her on Twitter.