Chuck Exclusive: Scott Krinsky Expounds on Evolution of Jeff Barnes

Dan Forcella at .
There have been many highlights in the early part of Chuck's fifth and final season. One of my personal favorites was seeing an almost normal Jeffrey Barnes after he stopped breathing in the fumes from his van during his nightly sleep.
Apparently I'm not the only one. Scott Krinsky has enjoyed the change in his character, telling me over the phone: "I think it's great that [Jeff] finally gets to have a little growth. We get to see another side of him that we really haven't seen before."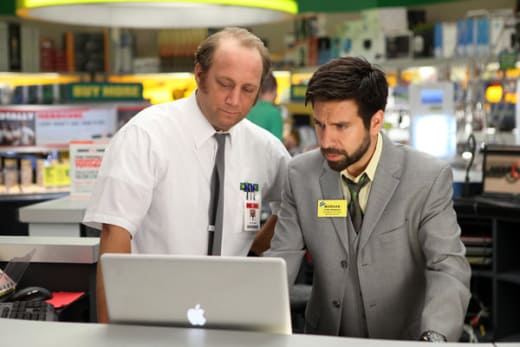 The difference between the spacey, flaky Jeff we knew for four seasons, and the one Captain Awesome helped develop by telling him to stop sleeping in his van, is so immense that it causes laughter just by listening to Krinsky's normal talking voice on screen.
The actor also enjoys the change for reasons of character development, though.  
"When he was younger, Jeff had all of this potential, so it's really great to see what he's like when he snapped out of it," Krinsky said.  
As we already witnessed in "Chuck vs. the Hack Off," this development might change things between our favorite Buy Morons. When asked about that situation, Krinsky replied: "Jeff is now more intuitive, he's smarter, and he's less willing to follow Lester. It definitely creates a different dynamic, because Jeff was always Lester's minion."
What does this mean for everybody's favorite Chuck band? A non-poisoned Jeff Barnes can still play the keytar. Don't worry: "If anything he can play better because he's more clear-headed," Krinsky reassured me.  
The actor didn't want to spoil anything, but we agreed that it would be very surprising if Chuck went an entire season without a single Jeffster performance.
When it came to the end the show's run, Krinsky was vague but excited: "I think the finale goes back to the core of the show in a lot of ways. It really completes the journeys of these characters. It's an excellent finale."
As a fan since day one of Chuck, it is going to be sad for me to see the series say goodbye on January 27. Krinsky - and I'm sure the entire cast and crew of Chuck - feel the same way.
 "It was such a special chemistry on this show," he concluded.  "Something like that doesn't come around often on a TV show."
Dan Forcella is a TV Fanatic Staff Writer. Follow him on Twitter.