We learned more about Doc Robbins home life than we witnessed in the last two seasons combined on this episode of CSI. That's saying something, given how close Langston and Robbins got during Ray's tenure.
It was nice to meet Doc Robbins' wife. It was about time, right? I was thrilled that "Genetic Disorder" took the path less traveled by having Judy be faithful to Doc and the murder actually not related to an affair.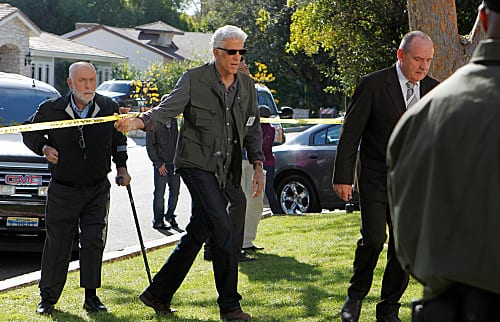 It would have been easy for the writers to put an affair into a show where we have never met the spouse of a long-running character. We see it all the time because they feel it makes "good TV." But I'm glad a program like CSI can achieve the same effect via different means.
Drams such as Burn Notice, Justified, and Leverage have raised the bar for crime programs several notches, resulting in the audience not being as tolerant to the same old tropes. Look no further than Criminal Minds: Suspect Behavior for a perfect example of a crime series that had a built-in audience and should have succeeded with ease... but came up short - and cancelled as a result.
The only disappointment for me in this episode was actually a result of CBS hyping it as The countdown down to Catherine Willows departure all week and then only getting about two minutes of this character when she spoke with Greg. Why start hyping her departure on an episode she was barely in?
Speaking of Greg, bravo to him for being able to keep an open mind and let the evidence tell him what happened. While DB and Morgan were also unbiased, they have not known Robbins as long as the rest of the team, so they had no problem keeping it all at arm's length. 
It looks like this is our last episode for 2011. CSI will be back in Mid-January. I hope you all have wonderful holiday season and I will see back in in 2012 for the real countdown to Catherine's departure. 
Jim G. is a TV Fanatic Staff Writer. Follow him on Twitter.