It's Always Sunny in Philadelphia Review: No Surrender!
Arlene G. at .
"Thunder Gun leaves no man behind" was not a rule followed by the Gang this week, in typical Sunny style that's exactly what they did in "Thunder Gun Express."
Having bought tickets to the hottest action movie to hit town in awhile, Dennis, Dee, Charlie and Mac all set out to out-Thunder Gun each other in getting to the theater on time. With traffic snarled out of control throughout Philly due to the President's visit, Dennis' slow-ass driving was out of the question. Having figured out they could probably walk faster to the theater, the pals expressed it out of there and abandoned Dennis.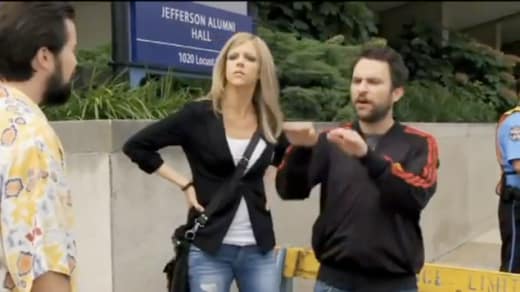 Frank couldn't have cared less about the movie until he got caught up in the hoopla of it all. Why buy tickets when he could scalp some? But first he had to get to the theater.
Unable to even run for the tram, much less hop on board, Frank commandeered a tour boat and then proceeded to give the confused Chinese tourists a tour full of gibberish facts and memories of his adventures with the Gang. I couldn't stop laughing when the fat, befuddled Chinese tourist just piped up with "we don't know who you're talking about!" Of course, Frank abandoning them with a "Welcome to Philly!" response was classic.
Mac got left behind when he was too "fat and disgusting" to fit through the sewer grate, which Charlie and Dee used to circumvent traffic. His attempt to commandeer a motorcycle left him looking like a special needs kid since he ditched the bike but kept the helmet on because it was very "Thunder Gun." Oh yeah, because nothing spells ACTION like a blinding yellow Hawaiian shirt combined with a black dork helmet.
Dee was actually okay with her time in the sewer until the wall of water hit her and she ended up with a head full of crap. Charlie managed to escape intact because he had left Dee stuck behind. Charlie's tantrum at Dee not wanting to get naked in front of him had me dying. All hail Queen Dee!
Dennis couldn't get over the fact that Mac had said he was too slow in his conquests and kept going over his old seduction tapes, which he creepily had in the car. Rear-ending the car in front of him, he managed to pick up the "brown" Mexican girl driving it and eventually ended up getting a hand job in the theater. Not bad for a guy who moved too slow!
Frank's buffoonery got him arrested and he used his one phone call to call in a bomb threat to the theater just as the Gang was set to enjoy Thunder Gun Express. Yup, he definitely thunder-gunned the s-it out of them. Couldn't happen any other way.

Don't surrender just yet! Keep the thunder rumbling with these Sunny quotes!