In the spirit of Christmas, we'll forgive NCIS this one.
It's not that "Newborn King" was a bad episode, but it felt like an entirely different show. The holiday theme was almost overblown at times, and there was a high level of (often predictable) cheesiness throughout, a far cry from some of the uber-serious, superbly well-written episodes this and every season.
But, what can I say, it's the holiday season, and it still worked for me. Why?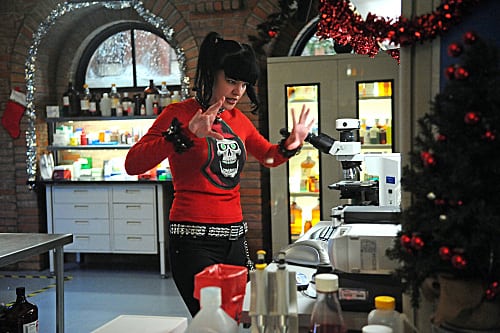 Marine Lt. Emma Reynolds (guest star Erin Cottrell) for one. Aside from initially locating her, there wasn't much mystery to her case - she was being stalked (hunted, really) because, after becoming pregnant by an Afghan soldier, she carried the potential heir to a key tract of land in Afghanistan that the DOD needed for a highway.
This was pretty much spelled out for us right away, and needless to say, a little far-fetched. But Emma's interactions with Gibbs, beginning with their fitting room standoff, made up for it and then some.
Everything about her was endearing, even as she tried to maintain the rough, Marine mentality she personified, the code that provided her a set of expectations that, with certain things, no longer apply.
It's always hard hearing Gibbs refer to Shannon or Kelly, but it seemed like he drew upon his own daughter's memory to form a bond with Emma that went beyond their mutual Leatherneck status.
If you saw the promo, you basically knew Gibbs' car was going to break down, and that he'd be the one delivering her child - a daughter, as it turned out, luckily for her - with the snow coming down.
Because Emma was so likable, and Gibbs is the man, it was easy to get wrapped up in the moment and overlook some of the lines ("my water just broke") and plot points (car breaking down) that felt formulaic.
While Gibbs delivered the greatest Christmas miracle of all, we were treated to a brazenly violent shootout between Ziva and Emma's would-be abductors, set to "Silent Night." Ironic, to say the least.
Obviously, Ziva got the job done (albeit after a much longer ordeal than you might expect from Ziva, to drive home the circle-of-life element) and everything was tied up in a pretty bow. As a holiday one-off I'll buy it.
A couple of character-driven side plots played key roles Tuesday as well.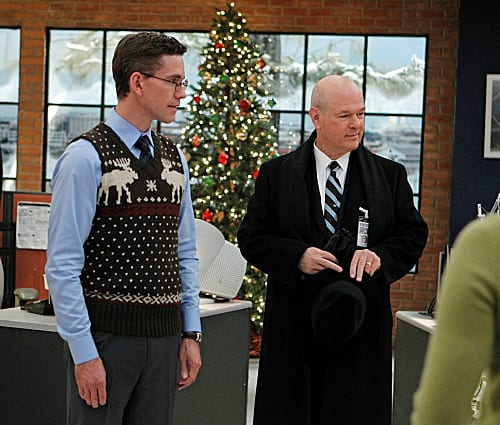 Palmer's future father-in-law, Ed Slater (guest star Larry Miller) got a tour of the office as part of Jimmy and Breena's Christmas present to him. Needless to say, he thinks James is an unworthy government stiff.
This guy does not mince words, whether he was making not-good-natured jokes at federal agents or offering Palmer a job working in his funeral home. Poor James even thought about that for a moment.
Once Ed made a comment about the team failing, though, that lit a fire under Palmer. Say what you will about NCIS, they succeed much more often than not and always risk their lives in their casework.
Again, the overbearing father-in-law-to-be trampling all over quiet Palmer was a bit over the top, but at least he stepped up - for himself and his team - and showed us a new, emboldened side of himself.
Now if we could just get him to lose the sweater ...
Perhaps the night's most powerful moment was reserved for last. After receiving an invitation to Christmas brunch from his ex-fiancee Wendy earlier, Tony decided to go, but never made it out of the car.
He ends up not at Wendy's but at Chez Gibbs, where he was obviously expected, but not welcomed. Not that Gibbs doesn't love his very special agent protege like a son, but he fears Tony turning into him.
Before they leave for Layla's (while we know Gibbs is always going to be close to them, it's wonderful to see it depicted on screen and hear bits and pieces about them), Gibbs made it clear that Junior's inability to focus on both his work and his personal life is on him, no one else ... and to figure it out.
"Don't be like me. Learn from it." Hopefully he listens.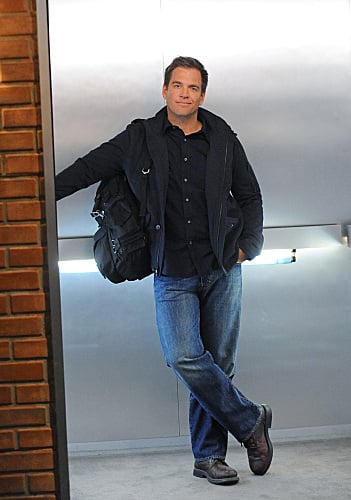 If Gibbs, who embodies so many good qualities and passes them on to those under his wing, can help Tony avoid what he considers his biggest pratfalls, he would be the ultimate role model and father figure.
A few random thoughts and observations before turning it over to your comments:
The Christmas cookie interrogation? Eye-rolling but kind of awesome.
Palmer did surprising well for himself with Breena. Just saying.
CBS Television Studios has got to work on their fake snow.
How great is Abby's Christmas techno music?
She put them in a time out? Amazing.
Gibbs + pink tricycle = Precious.
What did you think of this week's Christmas-themed NCIS? Discuss below!
Steve Marsi is the Managing Editor of TV Fanatic. Follow him on Google+ or email him here.