Nikita's mid-season finale, "Guardians," was more of a filler and transitional episode than I expected, given the long hiatus before we get another episode. While there wasn't a mission-of-the-week, all the players were moved around to set up the rest of the season.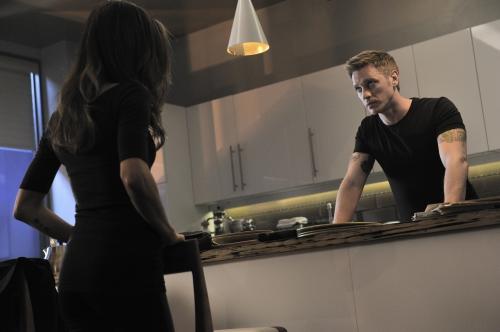 Most intriguing were the behind-the-scenes actions of Percy. Even from his glass cocoon in the basement, he was able to get out his order to move the guardians and their black boxes. Clearly, he initally thought they were safer being guarded in one place, so what changed to make him move them all to one location?
Now that Nikita knows about the meeting, which Percy had to assume was possible, how will it play out? Perhaps it is an elaborate ploy to finally get Nikita. While it is confusing, I'm intrigued to see how this will play out, especially now that Amanda has put Percy back under strict restrictions.
Poor Nikita. The make-up people did an amazing job making the usually gorgeous Maggie Q into a stressed-out and tired version of herself. Her rough times are only starting with no sign that Michael is going to return permanently. With Owen and Birkhoff looking out for her, at least she isn't alone. The reunion of Nikita and Michael was a relief to see, even if it was not an enthusiastic meeting. Ultimately, when she needed him, he was there for her; that says something.
With the exception of the guardians, all roads are leading to Russia and Semak. The reveal that Alex's mother is still alive was surprising, but not all that shocking. Is she there of her own free will or has she been forced to stay with Semak? For Alex's sake, I hope she was not aware of Semak's plan with Division. From Percy's comments, it appeared he knew she was alive, which leads me to believe that Semak didn't just want Udinov's business empire, but his wife as well.
Nikita doesn't return until January, so we will have to wait until then to find out what is coming next.
Odds and Ends
I missed Birkhoff and his comic relief.
I was surprised by how much I missed Sean and his interactions with Alex.
It's been speculated before that Amanda was helping Alex in order to help her oust Semak and take control of her father's conglomerate and legacy. This was confirmed when she discussed how it was important she not act too soon.
I love seeing the younger Alex with her father.
Carla Day is a staff writer for TV Fanatic. Follow her on Twitter and on Google+.