In a few short weeks, the winter season of Rizzoli & Isles managed to take my favorite characters and throw them into circumstances that had alarming consequences.
Remember when Jane was upset with Maura for withholding information from her about her brother? Well, that rift was nothing compared to the chasm created between our dynamic duo at the end of "Burning Down the House."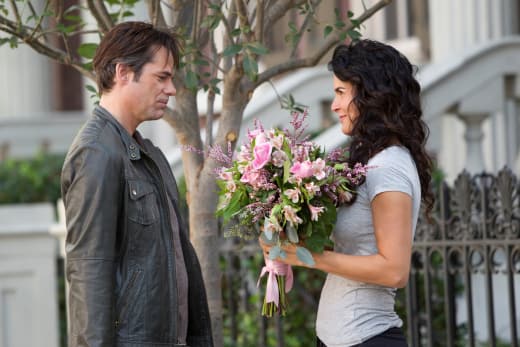 When Jane shot Doyle, Maura looked horrified, angry and completely betrayed by her best friend. And you could feel Jane's heart break as Maura practically snarled at her to stay away.
Had it only been a day or so before that Jane was the first person Maura called when her mother's life was on the line? Wasn't Jane the only one she trusted to find the person who ran them down? Yes to both... but now it was also Jane who shot her father while the man was trying to protect his child. 
This time Maura didn't respond with a doctor's good sense or a best friend's understanding. Suddenly she was a daughter desperately looking to protect the father she barely knew and hoping his secrets wouldn't die with him.
As soon as Doyle offered to tell Maura who her biological mother was and she turned him down, I knew the mobster's days were numbered. However, I was shocked that Jane was the one to pull the trigger.
Also involved in this scenario was Agent Gabriel Dean. I know Dean has his fans, but I've grown fond of Casey over the last several episodes. Casey seemed completely smitten with the talented detective and made the effort to keep in touch despite being overseas, which is more than I could say for Dean. I wasn't thrilled when Dean showed up with flowers and even less happy when Jane fell into bed with him.
When Jane told Gabriel about Patty Doyle's reappearance, she asked him to leave it alone as a personal favor to her and he agreed. Yet somehow he ended up at that warehouse and it looked as though he'd followed Doyle. 
Without knowing any other details, it's hard to say but it's possible that Dean went back on that promise. Unfortunately, we'll have to wait until the summer to see how Jane reads that situation and if Dean stays in the picture.
As far as the arson plot that set all of this in motion, I enjoyed it until the end. It felt like the loose ends were tied up too quickly as the fire became secondary to the story of Maura and her wayward father.
So... were you happy to see Agent Dean back in the picture... and in Jane's bed? Will Maura forgive and forget or will this incident have lasting effects on our beloved Rizzoli & Isles? Sadly, we have plenty of time to discuss these issues: summer is a long way off.
C. Orlando is a TV Fanatic Staff Writer. Follow her on Twitter.