"You Have the Right to Remain Jolly" is the first time since I've been writing for TV Fanatic that the rating of 2 out of 5 stars didn't even phase me. This was unlike any episode of The Closer in all seven seasons, and a terrible waste of great talent.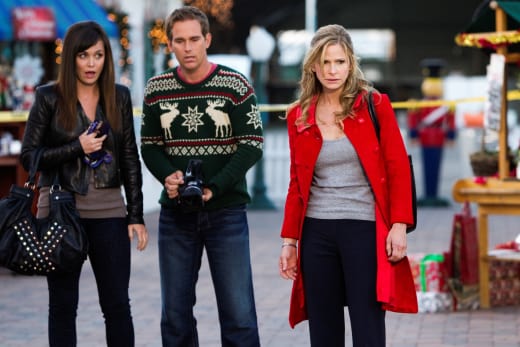 Jolly possessed all of the pieces a truly comedic classic. Buzz had his sister in town and they visited The North Pole winter village for the arrival of Santa, just as they had done since they were kids. Buss was decked out in a holiday a sweater, embarrassing his sibling, who brought on the sarcasm at his excitement of the regression back to their childhood.
This year, Santa's big arrival was via zip line. Yep, Santa stood on top of the "north pole" and zipped his way into the crowd. Except the brakes failed and he ended up under a pile of chimney rubble, looking more like the Wicked Witch of the West with his boots sticking out than he did Saint Nick The good news? That was Santa RANDY killed by zip line. Santa JACK, guest star Fred Willard, was the real deal in his own wonderland, but decided not to make the zip trip himself.
The laughter really began when a drunk, chain smoking Santa Jack was taken in for questioning. After he threw up in a trash can and wiped his mouth with his beard, he blew his nose in it and tossed in the trash. Ho ho ho! Isn't that funny? Buzz's sister, Casey, was apparently wearing the scent of Christmas Goofballs because the entire squad was left drooling on their chins and standing, googly eyed, waving at her with one hand through the office windows.
We've seen Flynn and Provenza work their magic with the ladies before, and when they're on, it's hard to wipe the smile off your face. But not only were they transfixed, but Tao, Sanchez, Pope and more were agape at the lovely weather girl, Casey. Except not one second of it was funny.
Santa was disgusting, Casey was cute but the men's reaction to her was childlike and not in a "gee it's Christmas" kind of way. It was rather offensive. If The Closer wanted to make the most of this situation, I have no doubt we could have been on the edge of our seats with laughter. Instead, I was cringing.
Like many a Christmas movie before it, some big money hungry capitalist wanted to close down The North Pole to install a shopping mall. In the end, the pathetic loser of a Santa came into $2 million for the sale of his land. He got a happy ending and we got coal in our Christmas stocking.
Even the reappearance of Brenda's attorney, Gavin, wasn't enough to save The Closer from making the naughty list. Festively decorated throughout with broaches resembling wreathes and reindeer, he told Brenda he needed an additional $25,000 to keep him on retainer. He requested this after laying out evidence against her that made even Fritz cringe. When your own attorney points out that sending a suspect a bouquet of flowers every year on the anniversary of a death he may have been responsible for really won't look that great in a court of law, you know your have your work cut out for you.
Brenda batted her eyes at Pope and asked for help with the retainer. Acting like he was saving the day, he told Gavin that this would prove to be the biggest case of his career and make him THE go-to attorney for all other cases if he won. He should do it pro-bono. In the spirit of the season and because he likes Brenda, he acquiesced. But not before telling Brenda that Pope had nothing to do with the original retainer money, which came from Fritz from a family inheritance. She had no idea.
I expect there will be more Christmas theme ahead this month as the midseason run continues on The Closer, so I won't worry that this was our last chance at a series Christmas episode. When I think of how wonderful it was last year, "You Have the Right to be Jolly" is just insulting.
Here's hoping that next week brings us some holiday cheer that doesn't insult our intelligence, and a good memory to match them all stupendous Closer holiday episodes that came before this lump of coal.
Carissa Pavlica is the managing editor and a staff writer for TV Fanatic. Follow her on Twitter.