Warehouse 13 Review: It's a Wonderful Warehouse
Nick McHatton at .
Thank Santa Warehouse 13 is so damn awesome all the time, because otherwise it would almost feel like we're getting Scrooged out of finding out the fate of the Warehouse after the fantastic season finale.
However, I can't (and shouldn't) judge this installment based on that because it simply doesn't exist in that timeline.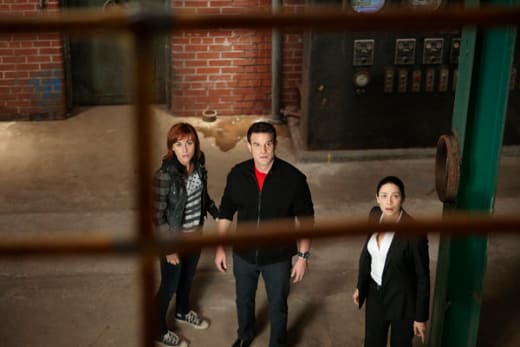 "
The Greatest Gift
" encapsulates everything that makes
Warehouse 13
one of the best shows on cable right now, and it doesn't have a lot to do with artifacts. Rather, it's all because of the actors and the chemistry they have with one another, combined with the life they bring to the superb writing.
This stand-alone really offered up something special: it brought a lot of what fans love about the series to the table, while serving as a great launching pad to any new viewers. How did it do this? Easy, we were reintroduced to everyone. With Pete now in this alternate universe - thanks to the upholstery brush - we got to see our merry band of agents worm their way back into the Warehouse.
The greatest gift of Warehouse 13 really is this family dynamic that's been established, and I loved watching Myka fall into that easy rhythm with Pete once again, complete with punching. Artie and Claudia, meanwhile, quickly fell into place with their one-line zingers and general affection for each other. All of this was done without some of the crazy silliness that occasionally supersedes some of the more dramatic moments, and I hope that's something that the writers will think about bringing over to the serialized plots next season.
Not that I want the comedy to suffer. Because I love the comedy.
I kind of wish Macpherson wasn't the villain this week, because let's face it, H.G. would have done it better. Although, then again, if H.G. was the villain things might not have such a happy ending. So maybe it's better this way after all.
Overall, this episode was much improved from last season's holiday episode (that also existed in a galaxy far, far away). In fact, "The Greatest Gift" will probably end up making it near the top of my list as one of my all-time favorite Warehouse episodes. It was that good.

Other thoughts:
Artifact count:  9. Did I miss any?
I want to work razzle and dazzle back into my everyday vocabulary.
The scene with the four of them in those storage lockers was hilarious.
How long will Mrs. Frederick keep? At least bronze doesn't rust.
Pete, I think the doors labeled with death overrides the need for a push or pull label.
And the winners for most incompetent agents go to Macpherson's team. When you lose to a candy bowl and storage lockers it's time to turn in your badge.