In case you hadn't turned on a television or opened a magazine in weeks, NBC premieres Smash on February 6.
The network is admittedly placing a lot of stock in this musical drama, running ads everywhere it can, including every commercial break of last night's Golden Globes. It's also making the Smash pilot available in many markets On Demand, or online; even running it on a few airlines.
But will all the marketing payoff? Does the series actually meet expectations for a network desperately in need of a hit? Based on the premiere, which I screened a few weeks ago, the answer is actually an unequivocal YES.
Here's why: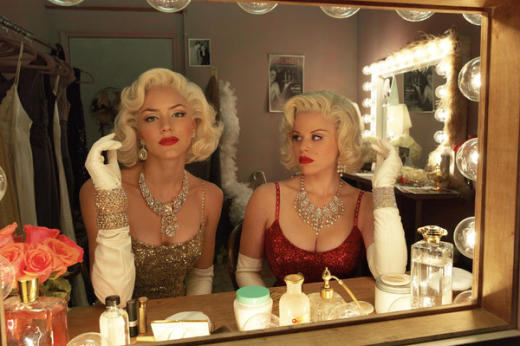 Smash is not Glee. Are the comparisons understandable? Sure. But can they please end now? Comparing these two programs to one another is akin to comparing one lawyer-based show with another for no other reason than the occupation of the leads. Aside from the act of characters singing, it's almost difficult to imagine to more dissimilar shows.
Glee is not exactly a series that cares about plot or character development. Smash, conversely, concluded one episode with immediately invested in a number of individuals. Debra Messing plays Julia Houston, a writer who wants to adopt a child and stage a musical based on Marilyn Monroe. Her and her husband clash over whether the timing is right for the latter.
Christian Borle plays Julia's writing partner, and he has an unexplained history/rivalry with Jack Davenport's Derek Willis, the show's director. Then there's Anjelica Huston's Eileen Rand, who is in the middle of a divorce, while simultaneously hoping to produce Marilyn.
These are all rich characters, played by industry veterans. There's a lot of material to mine here far beyond the musical itself.
Choosing teams. TV viewers are accustomed to shows asking them to choose teams, but never in this fashion. Forget the sultry vampire you hope ends up with Elena Gilbert, or the Alabama native you're yearning kisses Zoe Hart.
Smash pits one stage star against another, as Megan Hilty portrays veteran Ivy Lynn, the favorite to take on the play's lead role... until Katharine McPhee's Karen Cartwright shows up. While it's somewhat irritating for NBC to continually be "introducing" us to McPhee in every ad - she was on the highest-rated show on television for months, after all - I can see where the network is coming from. She's outstanding in this role.
A whole new world. The best part of Smash is the way in which it integrates you into a world never before depicted on the small screen. You legitimately feel like you're behind the scenes of a Broadway production. The most apt comparison I can make it to The Good Wife, in terms of an adult drama that treats its viewers like adults. There's quick banter, lively scenes, no stopping to dumb anything down for the audience.
It's a really, really good pilot. I can't vouch for anything beyond this one episode, of course, and this is NBC. So there's potential for it to get totally messed up. But Smash was my favorite screener of the 2011-2012 season and I'll be anxious to see what readers think about it after everyone gets a chance to watch.
Matt Richenthal is the Editor in Chief of TV Fanatic. Follow him on Twitter and on Google+.