Following a somewhat disappointing 2012 premiere, Castle returned this week with "Dial M for Mayor," an installment that investigated the death of an author involved with Mayor Weldon.
Before we discuss the forward-moving episode, let's give a quick shout out and congratulations to Nathan Fillion and the cast of Castle for their big wins at the People's Choice Awards. Fillion won for Favorite TV Drama Actor and the show won for Favorite TV Crime Drama. Take that CSI!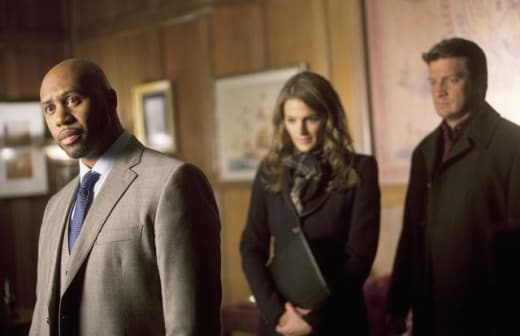 After last week's wedding pick-up artist episode, hopes were high that the show would rebound with one of its kooky and entertaining hours. Although it wasn't the most intense outing we've encountered, it set the tone for the rest of the season and laid the stepping stones for important information.
To wit:
Alexis is bored and is looking for something else to do, possibly an internship. 
The Mayor is needed in office to keep Castle in place to prevent Beckett from snooping. 
There are people who control the city. Who are they?
Gates is on the detectives' sides.
This was a welcome guest stint from Derek Webster aka Mayor Weldon. I wouldn't mind having him pop in more often.
The Mysterious Man Is Back. Castle received a call from the man who had previously helped him out with Beckett's murder investigation of her mother. At first I was thrown by the call. There hasn't been any mention of the prior situation and it pretty much popped back out of nowhere. The spooky voice met Castle in an even spookier parking lot to let him know he's a pawn. The Mayor has to stay in office to keep Castle at the station to keep Beckett from looking into her mother's case. I couldn't help thinking about the old Michael Douglas movie, The Game.
This is an unexpected twist in a series long mystery. We don't need the Beckett files constantly, but it is nice to be reminded of one of the underlying issues. Who is behind all of this? Hopefully it won't take too much longer to figure it all out.
The Goddess. The weekly case took us into the world of a woman author who had been working as a sex line operator for her latest book project. Information she heard over the phone led her to investigate undercover at the Mayor's office where a scandal was going down. Not surprisingly, the investigation led the detectives to one of the Mayor's assistants. This was definitely predictable, but him not being the killer wasn't. Who did he call that performed the murder? Any guesses?
After Thoughts:
There was absolutely no mention of Ryan's wedding. He was just back at work, guess he didn't take a honeymoon. No talk of how fun it was or anything. Kind of a let down considering we only saw a few minutes of it in the first place.
Castle totally used Siri on his iPhone 4s. Pure awesomeness. 
Nathan Fillion got a shout out on the last episode of The Big Bang Theory. Both shows = total fun.
Even though this wasn't a stellar episode, it moved the story forward. Now if we could only get some headway with Caskett, things would be great.
There have been a few really great episodes this season, and some not so much. Here is hoping that one of the upcoming are going to rock our worlds before we get in a Castle slump. I am looking forward to either a tension filled, serious crime hour (a la "Countdown" and "Setup") or an extremely kooky fun and unpredictable episode.
What do you think, TV Fanatics.? Is Castle giving us episodes that don't live up to their potential? Or are our expectations too high for the series and we have come to expect awesomeness every week? Either way, sound off and let us know what you thought of "Dial M for Mayor" and check back for the Castle Round Table later this week.