The latest installment of Castle, "An Embarrassment of Bitches," was most definitely one of the more enjoyable hours of the season. This series has really been able to do it all: get your heart pumping with anxiety, make you laugh, make you think, and, most of all, create an installment that is pure enjoyement.
This episode was no exception. 
"An Embarrassment of Bitches" took us into the land of dog competitions, reality television and murder. Sounds like a fun combination, right?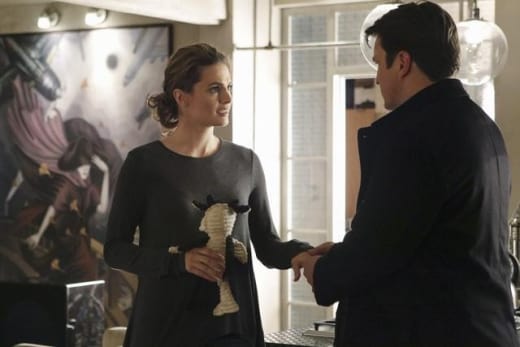 It's A Dog Eat Dog World. The weekly case centered on the death of a dog competition judge and trainer who had been working with Customs to train dog sniffing dogs. This was a fun change that also gave us a chance to admire the cute and cuddly pups on screen. The killer was predictable, but I didn't care at all. It didn't matter because it gave us a chance to see Ms. Kay Cappuccio....
Peyton Sawyer Hilarie Burton = Complete Knockout. Let me start by saying that I am not the biggest Burton fan. Her run as Peyton on One Tree Hill used to drive me crazy and was absolutely one of my least liked television characters. Tonight, that all changed. Hilarie was awesome, not only in the way she looked, but everything she personified.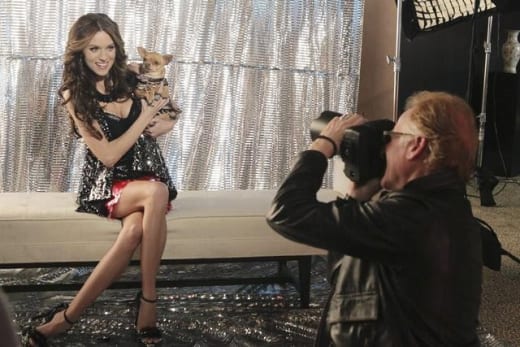 First of all, she looked gorgeous. Second: the voice was amazing. Burton's "Kay Cappuccio" was a character based off Kim Kardashian, of kourse and as soon as I heard her speak, I broke into laughter. She was believable, funny, and, somehow, likable. Plus, she obviously has good taste from her flirting with Espo.
Justin Hartley also guest starred as Burton's boyfriend, and his role was a bit of a disappointment. This is Green Arrow. He deserves more than a few lines! It just felt like this character could have been played by anyone. 
Shared Custody. The death of the dog judge meant one thing for our favorite non-couple: shared custody of his canine! This was such a cute and fun arc for the two. It provided a little bit of shipper moments but still brought the laughs.
Trying to call the dog from either side of the room so he would pick a winner was awesome. I sadly must admit that has gone on in my house to decide who our dog loves most.
The driving scene from the dog story was the hand rubbing between Beckett and Castle. The eye contact was smoldering and the tension was undeniable. Just enough to hold us Caskett shippers over until the next episode, which looks to be awesome!
After Thoughts
Still no mention of Ryan's wedding/new marriage. Still think it's kind of strange.
Alexis headed on a road trip with Buttons Dutton. I so wish that I had a friend named this in high school. Looks like the series is setting the character up to return for guest visits.
How hilarious was the Jason Bateman comment from that pesky pap? Gotta love this show's writers.
Overall, a great hour from the crime drama. Light hearted, fun and entertaining. Just what I like to finish up a Monday. What did you think, TV Fanatics? Was "An Embarrassment of Bitches" as much fun for you? What about you Caskett shippers? Was the small hand holding scene enough to tide you over? How about shared custody of the dog?
Hit the comments and let us know what you thought of the latest installment. There is a week off before our next episode, so check back soon for the Round Table discussion and info on the upcoming episodes. Until then, Castle fans...