Castle took viewers to the chapel on the first new episode of 2012, as Ryan exchanged vows with Jenny on "Till Death Do Us Part."
Below, our Round Table team of Jim Garner, Chandel Charles, Courtney Morrison and Christine Orlando break down the ceremony, the case of the week and a lot more. As always, reader feedback is encouraged...
-------------------------------------------
Were you disappointed there was no actual wedding/reception shown?
Jim: I wasn't. While I think that a reception could have been fun, having it end when Castle and Beckett walked in was appropriate for the show.
Chandel: Yes, while I appreciated the attempts to depict some aspects of the wedding, mainly Jenny's dress and Ryan's tux, I would have LOVED to see more. MUCH more!
Courtney: Absolutely! I was expecting more time devoted to Ryan's wedding, not just the last few minutes. Although the little bit we saw was sweet, I would much rather have preferred to see the detectives having some fun at the reception or even Ryan and Jenny in their ceremony. It was definitely a let down.
Christine: It was hyped as a wedding episode and then we barely glimpsed the long awaited wedding... so, yeah, I was a little disappointed. That said, I still really enjoyed the episode. I just wish they could have given us romantics a few more moments.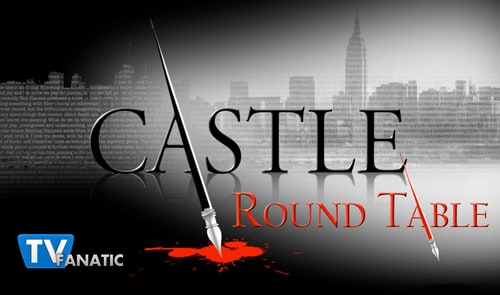 Do you agree with Castle or Beckett? Should they have told Ryan that Jenny was in the book?
Jim: I agree with Castle and Espo. As a close friend, you have an obligation to share what you know. I wasn't the least bit surprised the Ryan already knew, given how close he and Jenny are. I figured it would have already come up at home at least once. In fact, kudos to the writers for going that direction, and not making it a "drama point" in the show. 
Chandel: I'm not sure with whom I would have sided on this one. I would have hoped that Jenny had come clean, which happened to be the case. But I loved that Castle and Beckett were surprised at the reality that Ryan was aware and it didn't phase him at all. Neither were wrong or right at the same time. I want a relationship like that!
Courtney: Hard question to answer. As a girl, you of course want to tell your friend about their spouse. But then again, the date was in the book and was clearly a long time ago. I'm going with... staying out of it. That business is between Ryan and Jenny, not the other detectives. Besides, it was in the book. Ryan could have easily found it himself.
Christine: If I'm in Beckett's shoes, I'd keep my mouth shut, but I understood Esposito needing to say something. He and Ryan are more like brothers.
Should Kate and Rick tell each other the number of people they've slept with in the past?
Jim: No. It never ends the way you hope and honestly isn't something anyone should care about, aside from giving assurances that no diseases are involved.
Chandel: I don't think it's necessary or relevant. Unless it's something that directly impacts their relationship with one another, IKate and Rick's relationship should be about them together in the now.
Courtney: Nooooo! These two people had lives before they met each other and they are not even in a relationship to be sharing that kind of personal information. Of course Kate has guys in her past, she's freakin beautiful. And Castle is a famous author in NYC; hello, ladies! I think the only stuff that matters is what has gone down since the two started their "working relationship."
Christine: I agree that here in real life the answer is definitely NO. But wouldn't you love to witness these two characters having that conversation? I know I would.
Would you like to see Lanie and Esposito get back together?
Jim: Yes. They are so damn cute together, I adored the confession scene where Lanie admits her date is gay and Espo admits his date is his cousin. 
Chandel: Yes. They shouldn't have broken up in the first place. Enough said.
Courtney: Over the course of this season, I have developed quite the crush on Javi and can not understand why anyone would break up with him. I don't care if it was him or her that dumped the other. These two need to work it out and quick. Espo needs some loving, too, and things don't look like they are going to well or he wouldn't have had to bring his cousin as his date! I am all for a Lanie/Espo reunion.
Christine: I've loved these two since their first flirtations back in season two. Bring back EspLanie!
What was your favorite scene?
Jim: The scene where Castle is running down his spy theory and he gets to the end where Beckett usually inserts a bit of reason and she goes "Dammit, I've got nothing better." Such a great moment showing the two of them working off each other.
Chandel: Kate's quip to Castle that "maybe third time's the charm," which was quickly followed by their arm-in-arm stint down the aisle to their seats. A nice way to end the episode.
Courtney: I really liked the small but sweet wedding scene; mostly because everyone was so happy and looked so gorgeous. Ryan and his real life wife looked so excited, Javi was rocking that suit. Beckett looked absolutely gorgeous and her and Castle got to walk down the aisle together (even if it was only to their seats). A perfect few minutes.
Christine: I loved the scene where Beckett asks him who his plus one is and he's going on and on about this amazing woman. Even though it was obvious to viewers he was talking about Alexis, you could see Kate's heart drop. I hope she finally confesses she has feelings for him soon. I'm dying for some Caskett romance.