I have praised Chuck over the past five seasons for its ability to fuse comedy, action and heart into what I have dubbed here at TV Fanatic the Chuck Triple Threat.
This two-part series finale succeeded in making us laugh, and keeping us on the edge of our seat, but it was the overwhelming number of emotional triggers both "Chuck Versus Sarah" and "Chuck Versus the Goodbye" set off that made it an extremely satisfying ending.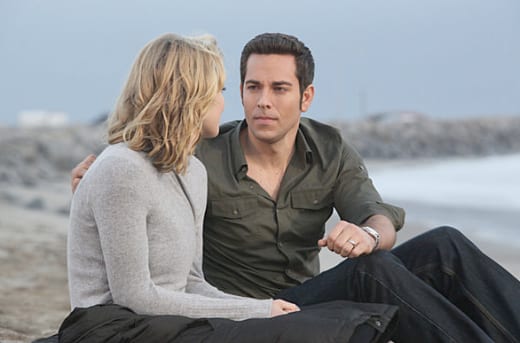 At the outset. it seemed as if the whole "Sarah lost her memory and was going to be a problem" issue was resolved before it even started, but they flipped that scenario right on its head. Sarah, in fact, never got all of her memory back from what the intersect and Quinn did to her, which just gave us more time to watch Chuck attempt to jog it.
Right down to the final minutes of the series, Chuck was reminding Sarah - and the audience - of what great times these two have had together over the past five years. That final scene, which our Round Table panel predicted horribly wrong, was so darn fantastic.
It's going to take a lot of work to get Sarah back to the place she was before losing the last five years of her life, but if Chuck continues to tell her their story while smiling and laughing it up, these two will make it back to where they were.
And while the end result for our favorite spy couple was beautiful, it wasn't even the most emotional moment from the two hours. Thanks to the flashbacks, and the wonderful acting by Zach Levi, the first time Chuck told the story of how these two fell in love was by far the most touching moment of the finale. Needless to say, my non-existent allergies started to act up at that point.
Unfortunately for Chuck, that game didn't bring Sarah out of it. It worked out well for us, though, because we got to relive it all again as Sarah watched her video diaries of her years with Chuck. Of course, it still didn't cause her to regain her feelings for Chuckles, but it sure was enjoyable to watch Sarah falling for him in a matter of minutes.
It wasn't just Charah's relationship that drove this series. The friendships that were created and groomed over these five years were some of the best on television. Many of those friends' stories were paid off in the end.
Casey, and his new found soft spot, attempted to help Sarah remember by giving her the video diary disc, continued the strong relationship with his daughter and sailed off to win over his own love... Verbanski.
Morgan was back to doing all of the little things needed to get the job done. He helped out Chuck on his missions, he helped out Casey, he even helped out Jeffster with the orchestra and he ended up moving in with the badass girl but sadly... no badass tips.
Awesome and Ellie decided to take off to Northwestern to take new jobs after getting wooed by Midwesterners. While I loved Ellie helping to save the day by crashing her car, and it's nice to see her having enough confidence in Chuck now to leave him be in sunny California, the move seems a bit out of place. Why would they leave now? Because it's the series finale? I don't think the extra money would be enough to displace them that easily.
Jeffster had one final killer performance, and it stopped a bomb from killing hundreds of people! Who had "Take On Me" in the final Jeffster performance pool? Not me, but I was glad to see those two goons rip it up one last time before getting their German record contract.
It might not have been the ending that many pictured - what with Sarah hardly remember who Chuck is, Casey darting off to find Verbanski and the Awesomes moving to Chicago - but in the end all of our favorite characters got enjoyable conclusions. Even Big Mike finally found out about all of the spy business going on around him. Whether he ends up believing it or not is another story.
What do you say? How about you put on that Weinerlicious outfit and take a stroll down the Chuck Triple Threat avenue one more time? Let's do this...
Heart
We shall start with heart since it's all already been mentioned. When it comes to plot, storytelling, and spy related material, Chuck doesn't usually take itself too seriously. With heartfelt, emotional moments, the show doesn't mess around, and that was obvious in the finale.  
Comedy
A lot of the flashbacks and callbacks were funny simply for nostalgic reasons. Seeing Sarah in the overseas Weinerlicious, or Chuck and Sarah ballroom dancing on a mission, had to just make you giggle nervously.
Then there were more overtly funny moments, like Morgan cramming in a Harry Potter, The Fugitive, and a headless horseman joke within minutes of finding the invisibility cloak.
Finally there were a couple of final John Casey gems, including "You shot down my helicopter with my own damn gun!" and "General, with all due respect, shut up. We're saving you."
Action
There were a ton of great action sequences from the two hours, but my favorite might have been the fight from Weinerlicious. Was it mainly because Morgan used a bottle of ketchup to take out his enemy?  Maybe.
I also really enjoyed the old Sarah taking on missions all by herself. My jaw dropped when I saw her kick through the window, slide under the desk and swing around the railing in a matter of seconds.
Moving Forward
So the final intersect upload was put into the shades, and Chuck decided to use them to stop the bomb instead of helping Sarah get all of her memories back. It's definitely fitting, if completely obvious, that Chuck finishes the series just like he started it...by downloading a super computer worth of information into his brain.  That still sounds weird when you say it out loud.
So that's a wrap, folks. The pacing of the finale wasn't really the best - it seemed to drag plot-wise in the middle there, but emotionally both hours really connected. It was a great ending to a series that I have loved since day one.
What did you all think of the Chuck series finale? Are you happy with where all the characters ended up? Sound off in the comments and come back for the final Chuck Round Table next week.
Dan Forcella is a TV Fanatic Staff Writer. Follow him on Twitter.